The latest addition our new Black Label series is this crew neck men's shirt. Made with our custom heavyweight french terry fabric, it is sure to become a Fall/Winter favorite.
High collar ribbed neck band
Matching ribbed cuffs
Side vents
Heather colors are made with a 90% cotton / 10% polyester in order to achieve the heather texture
Standard colors are still 100% cotton
Made with the same high quality standards as our tees, these french terry crew necks are a great addition to your collection. Like our tees, the neckline is sturdy and long lasting. Each shirt is garment dyed in a high temperature bath which will reduce the chance of shrinkage and discourage fading. The fabric weighs in over 9 oz. utilizing our unique heavy cotton yarn from our domestic sourcing. Made in the USA!
Made in the USA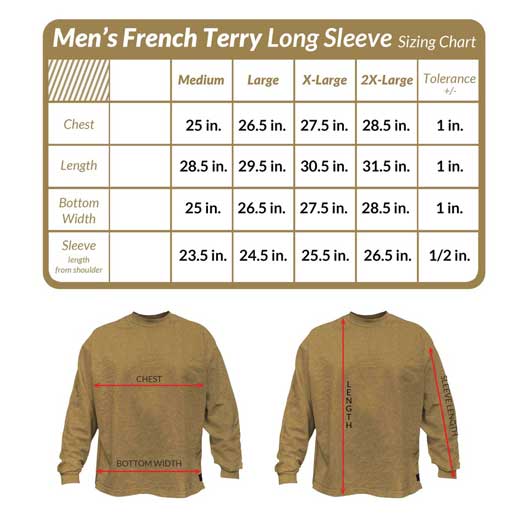 Long Sleeve
Male
Adult
I LIKE Them

This is a fantastic shirt

This is a fantastic shirt. Perfect amount of heft and the ribbing around the neck and wrists are perfect. Reminds me of the old-school rugby shirts from back in the day.

Very good value on clearance. Much softer than classic fit T and more comfortable

Great long sleeve with lots of arm room, very comfortable

Best lounge wear shirt I've ever owned . . .

Incredibly comfortable and well-made shirt that's perfect to wear around the house during the winter months. The cuffs and collar fit perfect keeping out the cold without being too tight. I was so happy after receiving and wearing that I ordered two more the next day. I went with heather because I was afraid of shrinkage from the 100% cotton ones, but I don't think it would have mattered because they fit just the way you want lounge wear to fit - a little loose and very comfortable. As for sizing . . . I'm 6'4",~235 lbs, 17.5x37 dress shirt, and a ProFit XL Heavyweight T fits me perfect as does the XL in this shirt.