There's been a lot of talk recently about gun control in the United States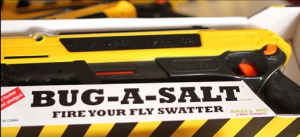 . With so many issues on the table, there's been quite a lot of debate and plenty of people have been avidly adding to their gun collection. I've discovered an awesome new collectible item that we can all agree, should be in every American's home defense arsenal. The BUG-A-SALT shotgun! Keep out those nasty home invaders like flies and roaches by staging a full "A-SALT" at your front door with this handy new tool.
Check out Surfer, Artist, Inventor and Developer of the BUG-A-SALT Lorenzo as he explains how to use this new gadget. What a suitable replacement for the fly swatters, glue strips and roach motels of the past, right? I mean it's 2013 already and I'm glad someone is stepping it up in the Man Vs. Bug arena! At war with these household pests since his childhood, California native Lorenzo Maggiore is a "sinewy 51-year-old, who favors cargo shorts and wraparound sunglasses". According to the Wall Street Journal, he is a surfer and yoga practitioner who speaks in a distinctly Southern California patois.
Lorenzo set out on his salt-gun quest in the early 90s and after a less than successful initial attempt, the idea was shelved until 2008. After maxing out a wallet full of credit cards the design was fine-tuned and ready to be sold to the public. In a fundraising event hosted at www.Indiegogo.com, Lorenzo and team were able to raise $500K+ for advance orders of the weapon. I can only imagine the sniper rifle and handgun models that must be in development now!
It sounds like one laid back Southern California Surfer dude set his eye on the goal and scored a big one for the American household. Now he just needs to find a way to have this new Gun Collection Made in the USA.
comments powered by

Disqus