Posted by HWC on May 29th 2013
The new cinematic spectacle "The Great Gatsby" starring Leonardo DiCaprio is sure to start a new from old fashion craze. Although we have always loved the various pin-up girls of the past, we also have a fascination with the 1920's high society flappers. An article in Collectors Weekly called it the Flappers Movement and NYU's Modern America reported that "For the time being, the bob and the entire Flapper wardrobe, united blacks and whites under a common hip-culture." Taking it a step further, Emily Spivack at Smithsonian.com says of the time "it was a full-blown, grassroots feminist revolution.
Well, I am not sure about all that, you can decide for yourself, but it is inevitable that the fashion trend is bound to show up in our clothing collections this summer. The drop-waist dresses and cloche hats will be appearing across America in record numbers.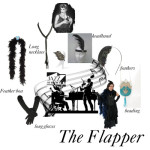 Big jewelry and feathers along with the bob hair cuts are already making an appearance. Maybe you will find a hidden collection in the attic or in an old deserted suitcase left by a great grandmother. What a jewel that would be! All you garage sale junkies and american pickers, keep your eye open for authentic styles from the roaring 20's.
If you want to brush up on your knowledge of the Flapper era, you can check out an article here. You can make the comparison to the Pin-up girl by taking a look at wikipedia. There is quite a difference in the origination of the pin-up girls but these burlesque performers and actresses created quite a stir themselves in the late nineteenth century. Both the flappers and the pin-up girls were commonly referred to as the "New Woman" and both movements challenged the conventions of the women's place and influence in society. Either way, those of us interested in fashion are always intrigued with retro styles and vintage flair.
Have you found a great place to buy the Gatsby look? Let us know the best deals out there.
comments powered by

Disqus