Posted by HWC on Nov 22nd 2013
Shopping for Gifts?
What will you give as gifts during this holiday season? Do you celebrate Christmas? Maybe you celebrate Hanukkah which is actually starting right during Thanksgiving this year (2013). Kwanzaa is also a celebration of the harvest and more of a cultural holiday. Whatever the holiday, many of us get into the spirit of giving gifts to friends and loved ones during the holidays or on a birthday. We want to give something meaningful, of high quality but at a reasonable price. Here are a few ideas that I am thinking of: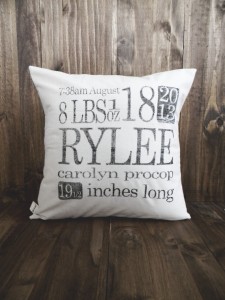 Personalized Items

You can have almost anything at all personalized with initials or a name. I found an adorable birth announcement idea on ETSY where all the details were printed on a commemorative pillow. The Parris Chic Boutique has lots of personalized gifts that would fit the need for great item at a reasonable price.

Handmade Gifts

There are many options for small artisans to sell online these days. You can find some great handmade

items that are sold for a reasonable price and have deep meaning. Think of the collector or gifting according to the culture of your recipient. Craftori is a place where you can find art, crafts and vintage items for sale. You can also get some great ideas for making your own handmade gift from Pinterest.

It is important for our economy to adjust our mind set to shopping locally. Even more important is to do our best to buy items that are made in America. There are plenty of incentives out there like the one American Express conducts each year around this time called Shop Small. You can receive a $10.00 credit to your credit card account when you register with the program and then shop in one of the small businesses that are also registered. That is just a start but we should remember that our economy is driven by small business and it is a good idea to support them.



Man Gifts

Some of the toughest ones to buy for is the men you know. All the men on my list are the type that will want something and then either go out and buy it or save up and work to get it for themselves. We end up buying them ties or underwear. There is nothing wrong with those gifts but sometimes we just want to get a little more creative. Home Wet Bar is an online shop that has plenty of creative gifts. They are not all for the bar, some are for the outdoor grill or there are even some games there. They have custom unique cutting boards, redneck wine glasses, campfire items and lots more.

Photo Memories

A personalized photo memory book is a memorable gift that will always be cherished. Assemble a pile of photos that takes you through a recent vacation, wedding or birthday and get it turned into a bound book. You can even share your ancestry research with others in your family tree. There are plenty of online sources that will offer endless options for creating an album, calendar or a set of cards.

Your Best Recipes

Know someone that wants to improve their cooling skills? You could compile some of your best recipes along with a photo story of how it should look when each dish is completed successfully. You could use the idea just above here to have it made into a book or create an online resource so the recipient could access it online any time. Create a gift certificate for the online cookbook and include it in a basket of ingredients for one of the best recipes in the group. Throw in a good bottle of wine to top it off and you have a personalized gift to remember.
What are some of the best gifts you have received over the years? We would like to add to our list of ideas. HWC
comments powered by

Disqus