Looking for a high quality pocket t-shirt for men? Our best pocket tees are made in the USA, built to last and meant for tough daily wear. Created with our signature, ultra heavy duty 100% cotton, (new heather tees are 90% cotton) our pocket tee is a hardworking shirt for men who need a strong and sturdy shirt with the advantage of a pocket.
We make our ultra custom heavyweight t-shirt right here in the USA using a durable cotton fabric that is woven locally. They are garment dyed to eliminate shrinkage and discourage fading. Although designed with comfort in mind, the relaxed fit provides room for hard work as well as play. The neckline will keep it's shape throughout all your activities and the printed label won't scratch your neck. This tee is a workhorse that will not cling, twist, fade, sag or shrink. Available in our classic fit body style so be sure to check out the fit guide to make sure you get the proper size.
Best selection of colors and sizes, our max-weight t shirt with pocket is available and ready for shipping. Since high quality t shirts with pockets are sometimes difficult to locate, be sure to pick one up for yourself and one or two as a gift.
Pocket T-Shirt - Classic Fit
There is no comparison to the custom made manufacturer direct pocket t-shirts offered online at HeavyTshirt.com. You will only find high quality cotton fabric custom knitted for a thick sturdy un-flawed fabric. The long smooth strands of the natural cotton yarn make the shirt last through untold wash cycles with no twisting or unsightly shrinking. Although you may read about some of the better known brands that advertise heavy t-shirts, you will find that they are made with a standard tube style body and vary in sizing, shrinkage, fabric content and quality. While a T-shirt isn't as technically complex as other common clothing, you will notice the attention to detail in these tees the minute you put your hand on one.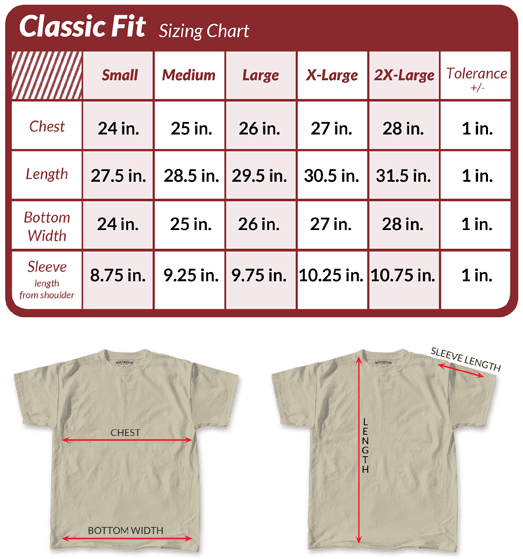 Short Sleeve
Pocket
Male
Adult
Best T-Shirts on the market!

I have been a customer for 1 year now and can say these are my favorite T shirts. There are no signs of wear or fading. I like the thick fabric too . It does not feel cheap . They are high quality and best of all made in the USA. I'm a customer for life !!!

For me I've found a large in a pro fit fits better than a medium in a classic fit.

HEAVYWEIGHT COLLECTIONS CLASSIC FIT | HEAVY DUTY POCKET T-SHIRT

i have ordered these before, fit great, dont sag , i like them. other brands sag quickly with my cell phone in pocket

I keep buying more and more

Slowly replacing all my t-shirts with HeavyWeight

Could not be more pleased!

Last fall I ordered two medium size short sleeve pocket tees, mainly to check sizing since they advise you to order a size smaller than you regularly wear. I normally wear a large (I'm 5' 11", 185 lbs). Out of the box the shirts were incredibly comfortable, relaxed, super hefty, and were exactly as I had hoped they would be. So I ordered six more - three short and three long sleeve. They have each maintained perfect appearance and durability. The website is straightforward and simple to navigate, the ordering and shipping processes are flawless, and email communication is top-notch. Immediately after I submitted my last order, I received an email letting me know that one of the colors wasn't available and asking me if I preferred to substitute another color (a list of which was in the email) or just remove it from the order. I chose another color and received a confirmation immediately once again. It was like standing at the checkout counter of a store. It is a most impressive operation, and it all takes place in California! I will order more shirts soon....support small American businesses!

It is really a bright light blue. I believe a'faded' same color would sell real well. A color closer to the photo than the actual shirt. If 'faded' I'g get 3 of them. Just an idea.

These shirts are perfect. I have been looking for heavy T-shirts for some time. They do run big but they are great.

Just what I was hoping for bigger then ever. and thick n long .could wear a sweatshirt under them this winter and still move freely.. great people running the shop also .

Just what I was hoping for bigger then ever. and thick n long .could wear a sweatshirt under them this winter and still move freely.. great people running the shop also .