Looking for a high quality pocket t-shirt for men? Our best pocket tees are made in the USA, built to last and meant for tough daily wear. Created with our signature, ultra heavy duty 100% cotton, (new heather tees are 90% cotton) our pocket tee is a hardworking shirt for men who need a strong and sturdy shirt with the advantage of a pocket.
We make our ultra custom heavyweight t-shirt right here in the USA using a durable cotton fabric that is woven locally. They are garment dyed to eliminate shrinkage and discourage fading. Although designed with comfort in mind, the relaxed fit provides room for hard work as well as play. The neckline will keep it's shape throughout all your activities and the printed label won't scratch your neck. This tee is a workhorse that will not cling, twist, fade, sag or shrink. Available in our classic fit body style so be sure to check out the fit guide to make sure you get the proper size.
Best selection of colors and sizes, our max-weight t shirt with pocket is available and ready for shipping. Since high quality t shirts with pockets are sometimes difficult to locate, be sure to pick one up for yourself and one or two as a gift.
Pocket T-Shirt - Classic Fit
There is no comparison to the custom made manufacturer direct pocket t-shirts offered online at HeavyTshirt.com. You will only find high quality cotton fabric custom knitted for a thick sturdy un-flawed fabric. The long smooth strands of the natural cotton yarn make the shirt last through untold wash cycles with no twisting or unsightly shrinking. Although you may read about some of the better known brands that advertise heavy t-shirts, you will find that they are made with a standard tube style body and vary in sizing, shrinkage, fabric content and quality. While a T-shirt isn't as technically complex as other common clothing, you will notice the attention to detail in these tees the minute you put your hand on one.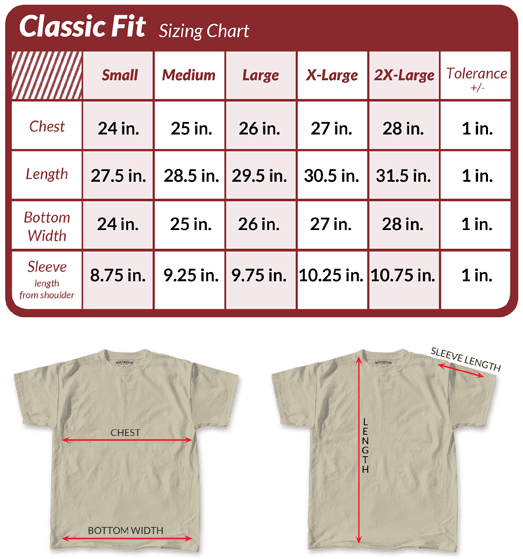 Short Sleeve
Pocket
Male
Adult
They do not run large. they run one size smaller then every other extra large i have bought in the last month. but saying that i like the feel of them. I am going to order 2 x large to see how they work out. Gave the other to my son.

I where these tee shirts every day! They're an excellent weight and very comfortable!

The best tshirt on the planet

I've spent nearly 1000 hours looking for the perfect tshirt, and here it's been, my whole life, waiting for me.

Very well built! Heavy duty material. Great for every day work. Doesn't sake around the neck.

best t shirt i have ever owned

The most comfortable shirt I've ever bought

These are great work shirts. Wish there were more colors. The collars are snug around my neck and I like that; no loose, floppy necklines.

Heavyweight pocket short sleeve t-shirt.

These are the best t-shirts ever! They hold their size and color for ages. No signs of wear around the collar after 100's of wash cycles. I am a customer for life.

I like these T-shirts...I just placed my fourth order. They're good quality. The only issue is that some of the shirts fade with time. But it depends on the color. The great thing about this company is the customer service. These guys are on the ball.