Looking for a high quality pocket t-shirt for men? Our best pocket tees are made in the USA, built to last and meant for tough daily wear. Created with our signature, ultra heavy duty 100% cotton, (new heather tees are 90% cotton) our pocket tee is a hardworking shirt for men who need a strong and sturdy shirt with the advantage of a pocket.
We make our ultra custom heavyweight t-shirt right here in the USA using a durable cotton fabric that is woven locally. They are garment dyed to eliminate shrinkage and discourage fading. Although designed with comfort in mind, the relaxed fit provides room for hard work as well as play. The neckline will keep it's shape throughout all your activities and the printed label won't scratch your neck. This tee is a workhorse that will not cling, twist, fade, sag or shrink. Available in our classic fit body style so be sure to check out the fit guide to make sure you get the proper size.
Best selection of colors and sizes, our max-weight t shirt with pocket is available and ready for shipping. Since high quality t shirts with pockets are sometimes difficult to locate, be sure to pick one up for yourself and one or two as a gift.
Pocket T-Shirt - Classic Fit
There is no comparison to the custom made manufacturer direct pocket t-shirts offered online at HeavyTshirt.com. You will only find high quality cotton fabric custom knitted for a thick sturdy un-flawed fabric. The long smooth strands of the natural cotton yarn make the shirt last through untold wash cycles with no twisting or unsightly shrinking. Although you may read about some of the better known brands that advertise heavy t-shirts, you will find that they are made with a standard tube style body and vary in sizing, shrinkage, fabric content and quality. While a T-shirt isn't as technically complex as other common clothing, you will notice the attention to detail in these tees the minute you put your hand on one.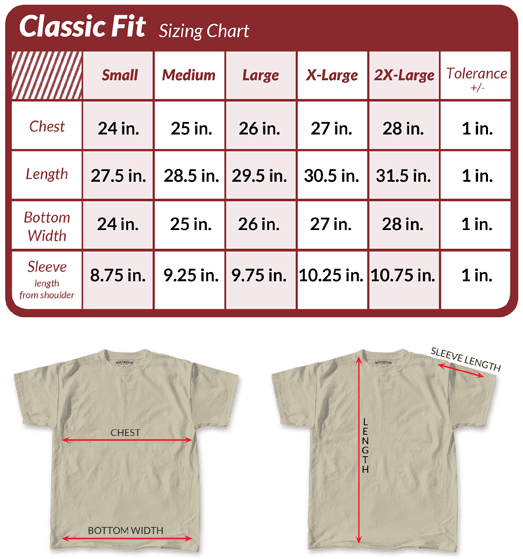 Hard to find a decent pocket t- shirt these days. Heavytshirt has solved that. Fantastic products. Probably the best shirt in years and years. I'll stock up on these.

Heavy cotton fabric, good fit and Improved stitching at top corners of pocket make this the best T shirt made in the USA.

Thick material is what I like durable

The collar is high and comfortable

Good quality and fit

classic fit heavy duty pocket t

best shirt I've ever bought

like the nice heavy T-shirts we wore as teenagers

Good shirts, but too big at XL. Returned and got pro xl. Better fit for me.

I bought 5 of these heavyweight Tees for my husband and he LOVES them. He's 6'2", long in the torso and 205lbs....do I got the extra large. Washed and dried them and the still have a very generous fit...which is to his liking. Nice selection of colors and well worth the money paid. Shipped very quickly. Thank you!!!

I am a drywall contractor and I put my t-shirts through extreme conditions every day. I could never find a shirt that would fit right,or last very long. All of the brands that l tried were to short, to long, to small, to large , stretched out collar or just plan trash. I was concerned about the size and fit of the HD classic fit t- shirt . So I lay out one of my own shirts that fits me and measured it , l matched up those measurements with the size chart , and what do know it fit perfectly , and no shrinking after washing. For your perspective l am 5'11" and 185, and went with the classic fit size medium. I think these shirts are high quality and will last a long time. I highly recommend them, even though they are $$$. And by the way having a pocket is nice also.