These are the best heavy t-shirts you will find; made in the USA and made from a thick, premium cotton. Our blank Heavy tees are among our best selling style due to the flexibility they offer. What is more classic than blue jeans and a white t shirt?
Buy yourself some of these thick heavy tees to enhance your basic summer shirt collection and build it out with a few graphic print styles. Select one of each color from our selection of high quality heavy t-shirts with no graphic. Available in a wide variety of colors at a reasonable price, our premium heavy t-shirts are sure to make the cut when you update your summer clothes collection.
All our heavyweight tees are created using our thick heavy cotton fabric that is custom produced for us right here in the USA.
NOTE: There is now an exception to our 100% cotton fabric: We have recently included our new HEATHER and ASH shirts. In order to achieve the heather/ash fabrics, you must use a blend. The heather will have a fabric
content of 90% cotton and 10% polyester and the Ash is made of 99% cotton, 1% polyester.
Each shirt is garment dyed in a high temperature bath which will eliminate shrinkage and discourage fading. The generous sized cut is finished out to a full size larger than you are used to buying in the store and our Tall Fit gives you more options when determining what size is best for your build. Be sure to check out the sizing chart to ensure that you select the best fit available for you personally.
Once you realize that you have discovered the best heavy t shirts available, be sure to share the great news with all your friends.
Solid Colors - Tall Fit - Long T Shirts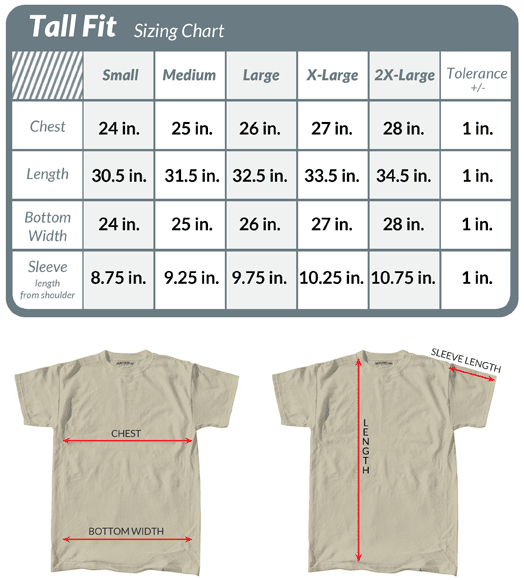 Short Sleeve
Male
Adult
Excellent quality. Make sure to look at sizing chart, shirts run big. Big and Tall are exactly what they say they are. Very satisfied with these shirts. Already placed a 2nd order.

Short sleeve heavy t-shirt

Perfect sizing, ver comfortable. Love the length.

Hmmm. I'm really on the fence with this particular shirt. Historically I've been wearing a heavyweight Stafford large tall but with those selections limited to whites and grays I was looking for some additional colors. I definitely don't like the traditional t-shirt fabric which is basically gauze. I read the suggestions and comments on the heavyweight t-shirt website regarding sizing and even wasted some valuable time with a ridiculous measuring tape attempting to compare my existing shirts with the online chart provided here. Ultimately, at 6'7" and 235 pounds I decided to order a large tall as I've never worn anything that describes itself as medium. My first impression after pulling this thing over my head and looking in the mirror was that I'd just put on a blue potato sack. I looked like a varicose vein. Obviously the designer of this cut is not from the west coast where at least the media would lead one to believe everyone is slim, beautiful and that people are conscious and concerned about their appearance. Boxy is a good word. Yeh, you'll look like a boxcar on the local train tracks. Additionally, while I do have a few extra chins, just like everyone else in the state of Mississippi, the neck felt like one of those things the veterinarian puts on the dog so it won't chew it's bum after surgery..... an Elizabethan collar, very tight. The fabric, well, it's definitely heavy, probably just right if you want to upholster some all weather outdoor furniture. All this being said, after washing the shirt several times and yanking on the neckline repeatedly so I could catch a breath before passing out, the shirt has become at least wearable, therefore I'm on the fence about it. The color selections here are limited unlike at LL bean where my large talls that just arrived fit like a soft well worn glove. In the end, the possibility that I will reorder this shirt is 50/50. Shipping was fast and I'm sure the company employees are hardworking and just lovely.

I have been buying shirts from you for over 15 years and love them. I just wish you had more graphic shirts. The few you have a OK but just not enough different designs. You have had many more in the past.

Since retiring 8 years ago, these are the only shirts wear! No more dress shirts for me. Great fit, long lasting and very comfortable. My only complaint is: the most recent order I had to order different colors since the website would only let me order 1 navy and 1 black. I wanted 3 navy.

Great quality and fit. Worth the money.

Very Very nice shirt, very thick, the only thing is they run a bit small.

Great, thick, comfortable

These are perfect---was looking for a thick, comfortable t-shirt for a while, and finally found these. Beware though, when they mean tall, they REALLY mean tall. I found that the best fit was the regular sizes, and I've usually bought 'tall' sizes.

Very quick response time when I exchanged shirts via mail. Thank you