These are the best heavy t-shirts you will find; made in the USA and made from a thick, premium cotton. Our blank Heavy tees are among our best selling style due to the flexibility they offer. What is more classic than blue jeans and a white t shirt?
Buy yourself some of these thick heavy tees to enhance your basic summer shirt collection and build it out with a few graphic print styles. Select one of each color from our selection of high quality heavy t-shirts with no graphic. Available in a wide variety of colors at a reasonable price, our premium heavy t-shirts are sure to make the cut when you update your summer clothes collection.
All our heavyweight tees are created using our thick heavy cotton fabric that is custom produced for us right here in the USA.
NOTE: There is now an exception to our 100% cotton fabric: We have recently included our new HEATHER and ASH shirts. In order to achieve the heather/ash fabrics, you must use a blend. The heather will have a fabric
content of 90% cotton and 10% polyester and the Ash is made of 99% cotton, 1% polyester.
Each shirt is garment dyed in a high temperature bath which will eliminate shrinkage and discourage fading. The generous sized cut is finished out to a full size larger than you are used to buying in the store and our Tall Fit gives you more options when determining what size is best for your build. Be sure to check out the sizing chart to ensure that you select the best fit available for you personally.
Once you realize that you have discovered the best heavy t shirts available, be sure to share the great news with all your friends.
Solid Colors - Tall Fit - Long T Shirts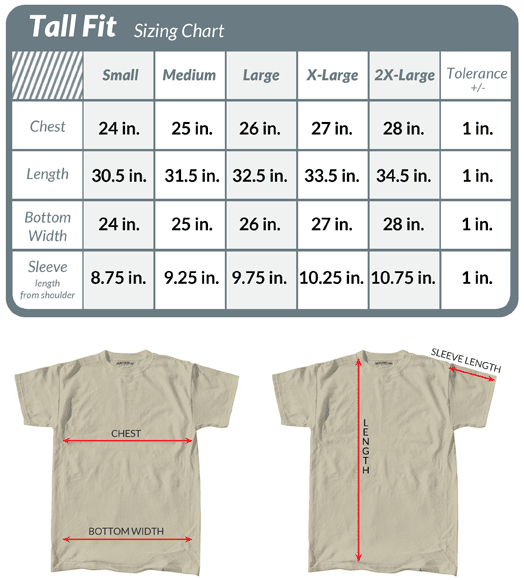 Short Sleeve
Thank you for the size charts and shirt measurements on your website. The shirt is a perfect fit!

Tall Fit Best Heavy T-Shirts for Men

If one is looking for a high quality, heavy T-Shirt look no further than this company! I have about 25 of the plain white short sleeve t-shirts most are more than 10 years old with only one shows wear around the back of the collar.

Love your shirts and have been buying therm fo years and my only complaint is that the necks lose their shape way before the shirt needs to be replaced.

Heavy weight as sdvertised

Passed the first wash test and everything came out as it went in

I bought 2 shirts initially and loved them so much, I came back and bought 2 more. Very nicely made and are very comfortable.

Excellent fit and very heavy like I wanted. The only complaint I have is that it is not as soft as I would have preferred. Hopefully it will soften over time. Otherwise, I love it.

Excellent quality and fit

Purchased for my sons birthday, he loved the fit and quality . Was a big hit

Best quality shirts anywhere

I needed to buy some larger shirts due to the Covid 19 lock up due to pizza LOL I have purchased shirts from these folks since they were GoBarefoot I must have 40 different colors and prints all of them including my oldest never sag around the neck I will keep purchasing shirts from these fine folks.

Best Heavy Weight Tshirt Ever

My husband does not like light material shirts and it was always difficult to find t-shirts he liked, until I ran into this collection. I have been buying them for a few years now and they last a LONG time. LOVE Heavy Weight Collections you wont be disappointed. They get softer the longer you have and are just a top quality material. He uses them to sleep in too.