These are the best heavy t-shirts you will find; made in the USA and made from a thick, premium cotton. Our blank Heavy tees are among our best selling style due to the flexibility they offer. What is more classic than blue jeans and a white t shirt?
Buy yourself some of these thick heavy tees to enhance your basic summer shirt collection and build it out with a few graphic print styles. Select one of each color from our selection of high quality heavy t-shirts with no graphic. Available in a wide variety of colors at a reasonable price, our premium heavy t-shirts are sure to make the cut when you update your summer clothes collection.
All our heavyweight tees are created using our thick heavy cotton fabric that is custom produced for us right here in the USA.
NOTE: There is now an exception to our 100% cotton fabric: We have recently included our new HEATHER and ASH shirts. In order to achieve the heather/ash fabrics, you must use a blend. The heather will have a fabric
content of 90% cotton and 10% polyester and the Ash is made of 99% cotton, 1% polyester.
Each shirt is garment dyed in a high temperature bath which will eliminate shrinkage and discourage fading. The generous sized cut is finished out to a full size larger than you are used to buying in the store and our Tall Fit gives you more options when determining what size is best for your build. Be sure to check out the sizing chart to ensure that you select the best fit available for you personally.
Once you realize that you have discovered the best heavy t shirts available, be sure to share the great news with all your friends.
Solid Colors - Tall Fit - Long T Shirts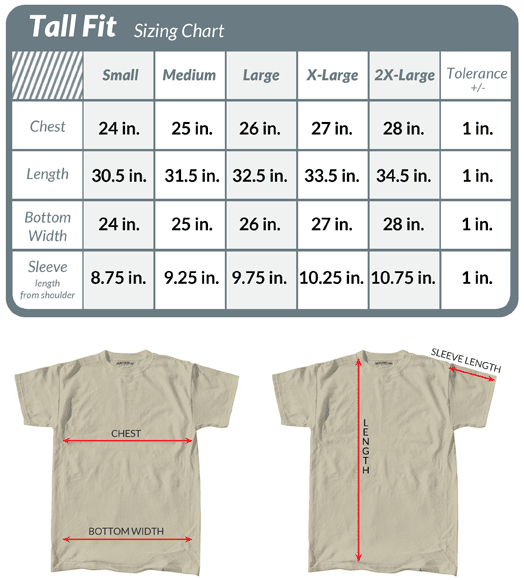 Short Sleeve
Male
Adult
just what I wanted

TALL FIT | BEST HEAVY T-SHIRTS FOR MEN

Best quality t-shirts I've ever purchased.

I will order the same size in the future.

As always, great products.

Ive been buying these shirts for years and the only complaint I have is that the necks lose their fit long before the body material wears out. Would also like vehted sides for wearing untucked.

Great t-shirts. Hard to find t-shirts like this anymore. Love the weight, quality seems good. Wish there was a tall slim fit available, but still just really like these shirts.

6'4, slim build. I usually wear a xl or xxl, but I went off the size chart and got a small. I haven't worn a small since middle school. It fit well, except for the neck hole which is barely wearable. It will probably stretch out but seems like an odd oversight with such big sizes. I bought this shirt primarily for concealed carry, hoping the heavy material will keep from printing as much as regular t shirts. It does … some… a little. I think. It's certainly heavier material than my dickies t shirts and will probably last a long time. Overall satisfied, (once the neck stretches out)

Excellent quality, Very comfortable

I haven't bought T shirts in years because they're all cheap quality at outrageous prices . These are definitely high quality . I'm a patriot for US made products and these T shirts don't disappoint. They are priced very well also. My wife bought 4 T shirts . She likes them a lot and hoping for for more styles in the future. (hint hint)

Fast Shipping…. Actually 1 day early. I wanted a USA made T shirt . I have not bought T shirts in years because I refused to buy cheap , thin , fabric . I ordered just 1 to test the quality. This is a well made , heavy duty T shirt. We will be buying more !!!