We've all heard of the Beanie Baby bonanza in the 90's, the Cabbage Patch doll craze in the 80's or maybe you still have that binder full of Pokémon cards. Many of us never had any idea how fast collectors would scoop them up! Even when they did, we were all amazed at the thought of them having any value in the years to come. You just never know which collections will retain their value in the future and which ones will end up in the back of the closet, collecting nothing but dust…Dust equity.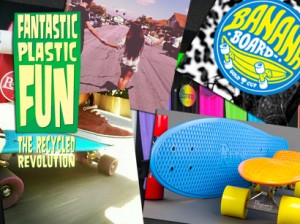 In case you haven't heard, in the past year Penny Skateboards have exploded on the scene, to say the least. The classic, 70's style plastic skateboard that can fit in a locker is flying off the shelves across the globe. Boasting a seemingly endless array of color combinations, these were made for collecting. A perfect gift for the trend setter in your family, even if they already have one! Grab them a new set of different colored wheels, bushings or a glow in the dark deck.
The classic styling of "The Original Plastic Skateboard" is just what everyone is so stoked on. From the old school skater that remembers surfing the sidewalk and busting out wild kick turns, all the way up to modern pros like Greyson Fletcher, seen here at San Clemente Skatepark pushing a Banana Board to it's full potential.
So, If you're looking for a new and exciting collector's item or maybe just aiming to spruce up your current skateboard quiver, this is the hot-ticket item you have been looking for. It's always nice to get in on the beginning of the tide. Although it takes lots of time for a modern collector item to become worth much, these little skates would be fun to own while you wait!
comments powered by

Disqus