The Lounge Pants for Men have been updated and improved. Made with our custom 9 ounce French Terry knit fabric, it is garment dyed and made in the USA
Elastic Waist with Heavy Cord Drawstring
Quarter side pockets and back patch picket

Leg cuffs and waistband made from matching heavy knit ribbed fabric

Heather colors made with a 90% cotton / 10% polyester blend;

all other colors 100% cotton
MADE IN THE USA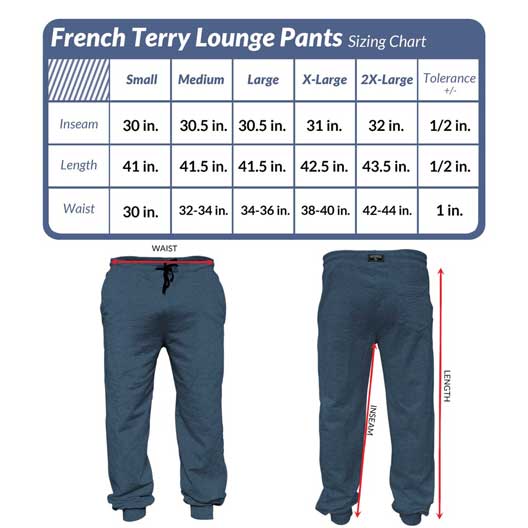 Male
Adult
So...I ordered two pair of these. They are nice quality terry--I'd say light sweatpants, but not thin. The brass color? It's mustard. I mean truly mustard--lots of yellow with some brown flecks almost like stone ground mustard. Neither the brass or the brown ones are 100 percent cotton--there's some poly in there. Anything with heather in the name has poly. They fit great, and are long enough (which is rare for me. I wear a small, but I really need 31 or so to the ankle). These are super comfy, but mustard yellow...

French Terry Lounging Pants

Good but not great

I liked my first pair so much, I bought a second pair.

great comfortable fitting

made in USA quality is superior to all the made over seas brands

Extremely comfortable exceeded my expectations

I was skeptical but these are amazing

It's surprisingly hard to find Terry cloth sweatpants. I don't know why but everyone seems to like fleece even though it (a) pills quickly and (b) notoriously conducts static. I was skeptical buying these because the photo quality is awful and the website seemed sketchy at first... No offense. But I took a leap and bought these because they were the only Terry cloth sweatpants I could find online in different colors. The colors are true to what you see on your screen. The quality is exceptional. I ordered a large and they fit perfectly. There's a little bit of excess in the leg, which is how sweatpants are supposed to feel. I'm 6'1" (34" inseam) and normally the cuff of the sweatpants is not resting at my ankle, it's like pulling and the sweatpants look and feel tight. These are nice and comfortable. I plan to buy more so I can stock up. Really great find. Highly recommend. Big thanks to the manufacturer.

All the products are great. I would hope you bring back both the embroidered shirts (bear/surf board and the turtle).

Great old school sweatpants

I love these sweats. Perfect size for a tall guy and I prefer the tight vs loose bottom/ankles. Light weight but warm. I wish you would add a heavier version as well for those of us that live further up north.