The French Terry pullover for women has a crew neck made from our soft matching ribbing and the long sleeves are finished off with the same ribbed cuff. Like the women's tees, there are side vents added for style and comfort. The slightly heavier crew-neck pull-over is currently available in 4 colors just in time for winter.
Each shirt is garment dyed in a high temperature bath which will eliminate shrinkage and discourage fading.
Made in USA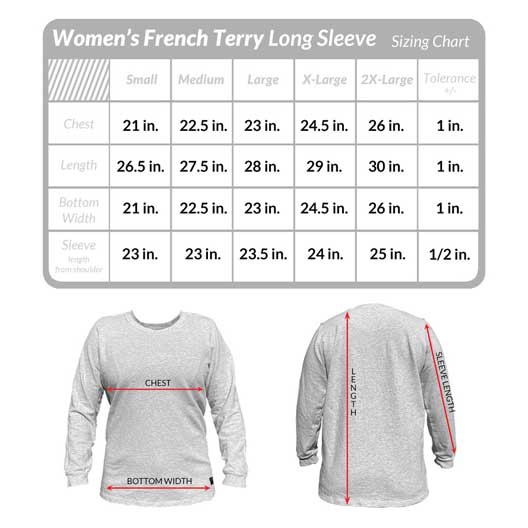 Long Sleeve
female
Adult
Too bad you don't have more of these. My wife loves them !!!

First time to buy these and I love how they fit! Women's French Terry pull over.

Will buy more of these in the future.

French Terry Women Long Sleeve Pull Over

Great fit and goes well alone or as a light weight pull over another blouse or shirt if it is cool. This and the woman's long sleeve classic fit are my favorites.

Bought this for my wife and she is very happy with it...which works well for me.

Glad to spend money to support made in USA

I have now made 3 orders, and my sister has made 4 orders, on many of the Women Tshirts! It is so rare a cotton sourced in USA, shirts made in USA, and this little store in San Clemente, CA, SELLS IT! The Open-End Cut cotton is the cotton fiber which absorbs body moisture like a paper towel, so your body feels cool immediately. The beauty of 100% cotton wicks away the excess heat and sweat from your skin! The cut is simple, with 'knit' collar and cuffs! This detail is also a rarity for this material is more costly; unlike the many fashionable Ts where the cuffs are simply the sleeves' fabric, hammed. Today's trend is slub cotton knit, it's light and airy, it has its uses, but finding the mid-weight Ts 100% cotton from Heavyweight Collections, can be used from fall to spring!! How can you not love it for our socal weather? I first did research on its website, bought one even paying the shipping to try, taking that 50 50 chance to see, is the product indeed what they claim to be? Well, I hope you try it too! Support made in USA!

Women long sleeve French Terry sweatshirt

This is thick cotton French Terry is perfect for layering. It's not thick enough to be worn as a sweat shirt, but rather a nice mild/winter supple 100% cotton shirt! I love the cuff and neck strong elastic cotton fabric that allows for stretching without losing cotton's fabric tension. Again, I like to wear it 24/7!!!