When making your choice for quality men's fall fashion, our long sleeve heavy weight t shirts are a simple decision. Perfect for hard work days or evenings at the beach. The natural cotton fabric breathes so is great for working outdoors in the sun. Your skin is protected from harmful UV rays but the fabric will not become sticky or clingy during active sports or on a hard-working kind of day.
Stylish enough for a cool evening at the beach or a spring ski day. The heavy duty cotton tee is so versatile, you will find an endless array of scenarios for which you reach into your closet looking it. Choose one of each color and stock up on our long sleeve heavyweight t-shirts for every season. This high quality tee works hard, plays hard, always affordable and will last for years to come.
All our cotton t-shirts are constructed of a heavy custom spun cotton that we have made for us locally and in the USA. Each shirt is garment dyed to eliminate shrinkage and discourage fading. The generous sized fit of our Classic Fit tee is cut to a full size larger than you are used to buying. Be sure to consult our sizing chart (by clicking on the size chart tab found on this page) so you will select the perfect size for your body style.
Classic Fit, Classic Style, Solid Colors, Made in the USA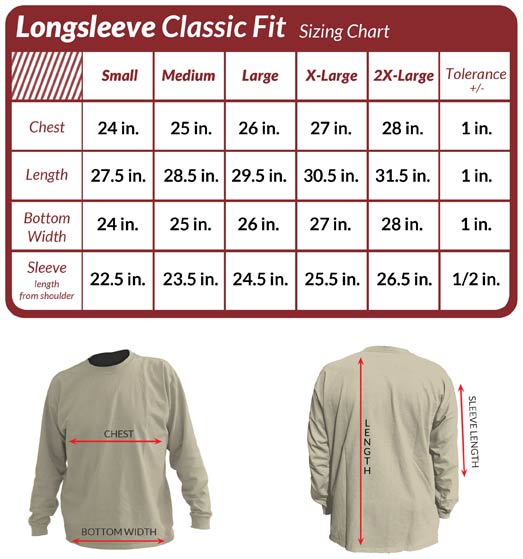 Long Sleeve
Male
Adult
I've been buying heavy weight T's from this company for years and they are the best! It's so hard to find T's that have both heavy material and full fits. I'm in my 70's and skin naturally hangs down more than when I was in my 20's. Their materials are much better suited for me.

Great winter shirt

Always the best heavy cotton shirt...long lasting and super comfortable.

Best quality I have ever seen

WOW! everything about the quality exceeded my expectations. Shipping was fast too. Fit is awesome!

I've been wearing these shirts for 10+ years now. I still have two of the original shirts I purchased while on vacation at a shop on Highway One in California. I live in Utah and order online. They don't wear out!

Great heavy T-shirt for winter

The postal service destroyed the shipping box. Luckily the tshirts were not damaged.

I wore the C brand for years. They are now "poly blend" NOT 100% cotton like these shirts. These shirts are the highest quality available. Consistent color and manufacturing.

Thicker then average long sleeve t-shirt, and warm. Love that the shirt doesn't shrink. Sizes do run large, had to buy a size smaller. Will definitely buy more for next winter.