When making your choice for quality men's fall fashion, our long sleeve heavy weight t shirts are a simple decision. Perfect for hard work days or evenings at the beach. The natural cotton fabric breathes so is great for working outdoors in the sun. Your skin is protected from harmful UV rays but the fabric will not become sticky or clingy during active sports or on a hard-working kind of day.
Stylish enough for a cool evening at the beach or a spring ski day. The heavy duty cotton tee is so versatile, you will find an endless array of scenarios for which you reach into your closet looking it. Choose one of each color and stock up on our long sleeve heavyweight t-shirts for every season. This high quality tee works hard, plays hard, always affordable and will last for years to come.
All our cotton t-shirts are constructed of a heavy custom spun cotton that we have made for us locally and in the USA. Each shirt is garment dyed to eliminate shrinkage and discourage fading. The generous sized fit of our Classic Fit tee is cut to a full size larger than you are used to buying. Be sure to consult our sizing chart (by clicking on the size chart tab found on this page) so you will select the perfect size for your body style.
Classic Fit, Classic Style, Solid Colors, Made in the USA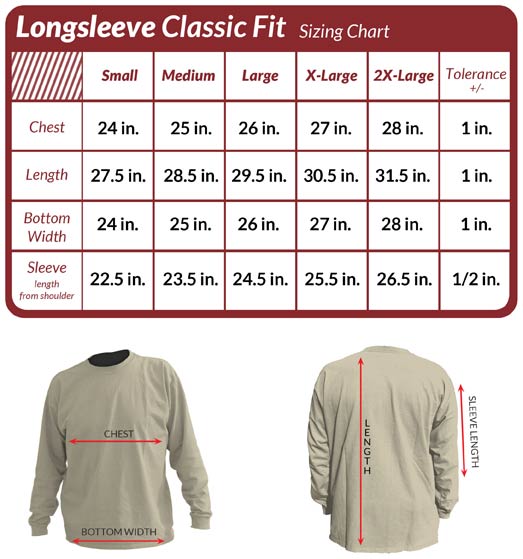 Long Sleeve
What can I say that I haven't said before regarding these great T's? Simply put. they are the only T's this highly discriminating "T-connoisseur" will wear! Die beste oder nichts! ✌

All these shirts are great. The long sleeve shirts are great for the cooler months

Love the t shirts have been purchasing for years

Is there a catalog available

I love this shirt but wish they made lighter colors. A few years ago they sold them embroidered with sea turtles and a bear riding a surfboard. I'd love to see those available again.

Long Sleeve Classic Fit T

As always, the classic fit long sleeve T from "Heavytshirt.com" is a winner! Love the weight and loose casual fit of these T's, but most of all, the collars are the real deal! No light weight, "stretchy neck" T's for this old guy! ✌

Would love it if this size & style had more color options!

Classic Fit Long Sleeved T

I love them! They are very high quality. I will never purchase a t-shirts anywhere else. And, their customer service is excellent!

Perfect, undisputed product

This is my favorite outfit in my life. A comfortable fit, moderate thickness, and a cool silhouette. Thank you for making the best clothes. I want to buy it every year. As a personal request, it may be difficult to dry by washing, so I would be very happy if a product made of quick-drying material comes out.

The best piece of my life

A comfortable fit, a tough collar, and discerning American cotton. All are the best ones. I want to keep buying it for the rest of my life, so I would be grateful if you could continue manufacturing. If it does come true, I would be very happy if a quick-drying sports T-shirt comes out in the same shape.