When making your choice for quality men's fall fashion, our long sleeve heavy weight t shirts are a simple decision. Perfect for hard work days or evenings at the beach. The natural cotton fabric breathes so is great for working outdoors in the sun. Your skin is protected from harmful UV rays but the fabric will not become sticky or clingy during active sports or on a hard-working kind of day.
Stylish enough for a cool evening at the beach or a spring ski day. The heavy duty cotton tee is so versatile, you will find an endless array of scenarios for which you reach into your closet looking it. Choose one of each color and stock up on our long sleeve heavyweight t-shirts for every season. This high quality tee works hard, plays hard, always affordable and will last for years to come.
All our cotton t-shirts are constructed of a heavy custom spun cotton that we have made for us locally and in the USA. Each shirt is garment dyed to eliminate shrinkage and discourage fading. The generous sized fit of our Classic Fit tee is cut to a full size larger than you are used to buying. Be sure to consult our sizing chart (by clicking on the size chart tab found on this page) so you will select the perfect size for your body style.
Classic Fit, Classic Style, Solid Colors, Made in the USA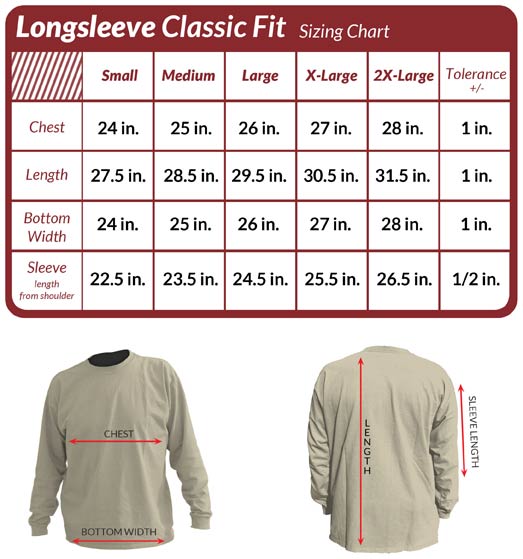 Less than a sweat shirt, more than a t-shirt. Well made and perfect for fall weather

great except once again you could not fill the complete order and the ladies T I bought for my wife is NOT a classic design

You've found the best long sleeve T

Ive been trying to find a solid long sleeve tee forever now. All the other shirts I got were flimsy and not as solid as this heavyweight tee. What I love the most is that you can roll the sleeves up without the cuffs getting all loose. I always say pay the extra money to get better quality, and this shirt is no exception.

I love these T shirts so much that I am now sending them to friends and relatives so they too can enjoy them as much as I do.

I have been dealing with this company for quite a while now. What brought me to HeavyTshirt was made in the USA t shirts. There are a few others. Ordered the exact same T from all them. Wore all of them for a couple of weeks. Doing a lot a of t shirt washing during that time. Heavy T shirts hands down was the best of the bunch. Wear these shirts five(5)days a week. Week in and week out. Could not be more satisfied. Bottom line. Buy these shirts! Oh one more thing. The customer service is top notch. I have never had an issue with a shirt. But I have ordered incorrectly and they don't bat an eye. when I asked for an exchange

I love the quality and comfort. Worth the extra buck as this is a quality T. I only wish they would add pockets! Blanks with pockets PLEASE? Fresh right out of the dryer no iron. Very comfortable and I love them. Not to mention quick shipping and great customer service.

I know a lot of people will hesitate at the cost of these shirts. I did, too. But, I took a chance and I'm glad i did! These shirts last forever and look nicer than any other t shirt out there. Well worth the money. Buy some! You won't be sorry!

I ordered one of the classic fit long sleeve t shirts and was not only impressed by how fast my order was processed and shipped, but also very happy with the quality of the material and workmanship of the shirt. Customer service was great when I called about what size to order. To be honest, I was a little skeptical when I placed my order, but very pleased with the whole experience.