It's time to stock up on all your quality men's tees for the season. Our premium t-shirts for men make your decision the simplest choice. Perfect for evenings at the beach, the natural cotton is breathable yet just enough shirt to take the edge off the evening ocean breeze. Due to the heavyweight nature of the fabric, it will never become sticky or clingy during active sports or on a hard-working sort of day.
Choose one of each color and stock up on our long-sleeve heavy tees. This high quality shirt works hard, plays hard and will still be your go-to shirt five years from now.
All our t-shirts are constructed of a thick, custom woven cotton that we have made for us locally and in the USA. Each shirt is garment dyed to eliminate shrinkage and discourage fading. The fit of our pro-fit style is cut a little narrower than the classic fit tees you buy from us. It is important for you to consult our size charts and compare to a tee that you already know fits you the way you like.
Pro Fit | Solid Colors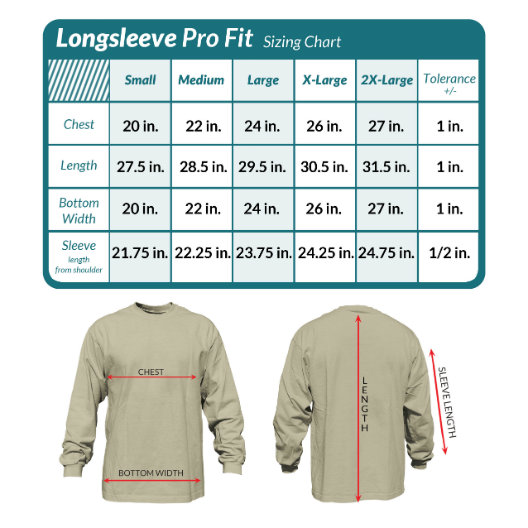 Long Sleeve
Male
Adult
These are my favorite tees. I've found nothing to equal their weight, durability and comfort.

Finally another actually heavyweight shirt. These are very heavy, durable and comfortable. These pro-fit actually fit like a traditional t-shirt, for the most part. You'll definitely want to heed their warning that their shirts run large. My minor complaints are: 1) the neck and the cuffs are noticeably tight, and 2) while the body fits well, the sleeves are still very bulky and I've like to see those slimmed a bit as well.

Profit long sleeve heaven weight T shirt

Great shirt! Excellent fit. Fabric is perfect and seems to get better with each wear! Permit T Shirt!

I used to have a go-to brand that I could get this kind of shirt from, but they have since discontinued that one, much to my chagrin. Since then, I've been searching everywhere for a truly heavyweight t-shirt (that is also 100% cotton), to no avail. Finally I found my way here. I ordered this shirt and assumed it would be a failure like the dozen others I've tried in the last few months that claimed to be "heavy weight". I was so happy when I pulled this shirt out of the packaging. Then I tried it on. This is the real deal. Heavyweight and comfortable. If I had one, small, tiny gripe, it would be that the sleeves are quite... voluminous. If this shirt had a skinnier sleeve (especially in the upper arm), I might literally cry at the perfection. As it is, though, this is as close to perfection as I've found anywhere. I've already placed an order for more.

Pro fit long sleeve T shirt

Continue your great Made in America shirts that hold up wash after wash unlike crappy imports

Purchased two long sleeve Pro Fit for my son. XL fit perfect after wash. He said that the quality of the shirts reminded him of the "Penny's Polo Shirts" I used to buy him when he was a little guy. Collar, sleeve and weight is perfect.

test for greatest is to see the shirt post first wash still looks like original shirt

keep the manufacturing in the USA

Always the best quality, fit and delivery.

Pro fit long sleeve t-shirt

Fantastic!