It's time to stock up on all your quality men's tees for the season. Our premium t-shirts for men make your decision the simplest choice. Perfect for evenings at the beach, the natural cotton is breathable yet just enough shirt to take the edge off the evening ocean breeze. Due to the heavyweight nature of the fabric, it will never become sticky or clingy during active sports or on a hard-working sort of day.
Choose one of each color and stock up on our long-sleeve heavy tees. This high quality shirt works hard, plays hard and will still be your go-to shirt five years from now.
All our t-shirts are constructed of a thick, custom woven cotton that we have made for us locally and in the USA. Each shirt is garment dyed to eliminate shrinkage and discourage fading. The fit of our pro-fit style is cut a little narrower than the classic fit tees you buy from us. It is important for you to consult our size charts and compare to a tee that you already know fits you the way you like.
Pro Fit | Solid Colors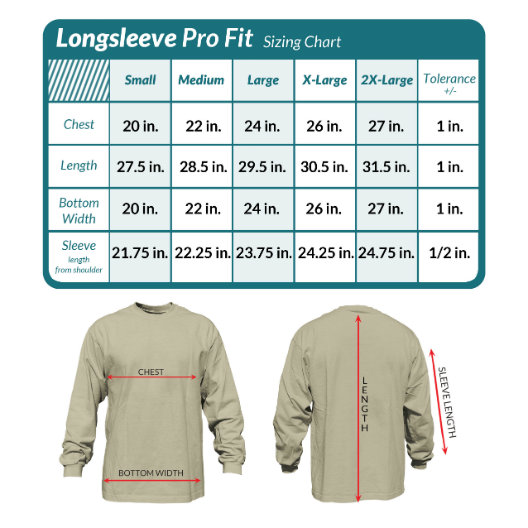 I'm 5'9" 195lb. Ordered Large. Very weird fit. Huge in arms under shoulders area. Very tight neck - uncomfortable. returning.

Been buying heavy tees for over 10 years. They last for years. The New Pro Fit fits close but nit too close. Perfect for mild temperatures when a sweat shirt is to much.

Heavyweight finally came up with more colors in their L/S T-Shirts! I added 4 more to my collection. These are the most comfortable t-shirts in cool fall weather or spring for that matter. I highly recommend!!

Ample room in shoulders and arms . Great length for my longer than average torso. Great for motorcycle riding.

Great T-shirt. The pro fit is good for normal fit. Lack of color choice in the large however.

Shirts are very well made and the colors are steadfast. Fit is very good.

I purchase these shirts for my granddaughter and she really enjoys them.

American made quality, not lot imports that could pass for cheese cloth

Most comfortable t-shirts I've ever bought. Worth the price.

The neck on a t shirt is probably the most important thing for me. Your necks are exactly what I've been looking for, for years. I use to live in San Clements in the late 70's. That's cool you folks are locals. I'm gonna make in some day. Continue doing a great job.

Top performer! Worth the cost!

Before purchasing Heavy Shirt, I gambled on what I thought would be a "heavyweight" tee from a well known national brand. Heavy Shirt is far superior than the other; durable, not too soft, and of course, heavy. An American made product worth the expenditure. Quality is reminiscent of shirts I still own from the late 1980s! Anyone considering this shirt should make the purchase. You will not regret.