It's time to stock up on all your quality men's tees for the season. Our premium t-shirts for men make your decision the simplest choice. Perfect for evenings at the beach, the natural cotton is breathable yet just enough shirt to take the edge off the evening ocean breeze. Due to the heavyweight nature of the fabric, it will never become sticky or clingy during active sports or on a hard-working sort of day.
Choose one of each color and stock up on our long-sleeve heavy tees. This high quality shirt works hard, plays hard and will still be your go-to shirt five years from now.
All our t-shirts are constructed of a thick, custom woven cotton that we have made for us locally and in the USA. Each shirt is garment dyed to eliminate shrinkage and discourage fading. The fit of our pro-fit style is cut a little narrower than the classic fit tees you buy from us. It is important for you to consult our size charts and compare to a tee that you already know fits you the way you like.
Pro Fit | Solid Colors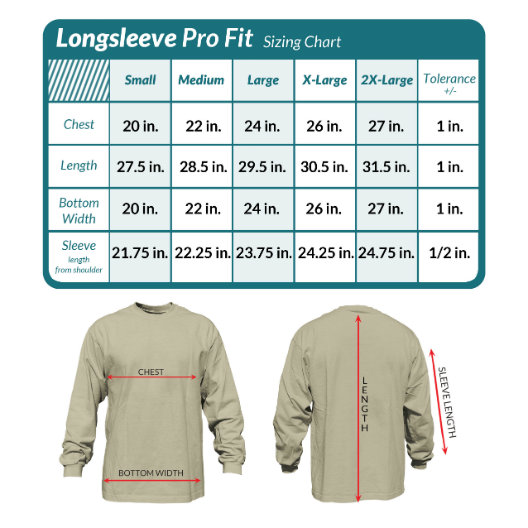 Excellent product. I love the weight and construction of the Heavyweight T-Shirts. Pro-fit is the best option for me. The neck fits snugly, sleeve and body length are comfortably generous (just right). I have several drawers filled with short-sleeve and long-sleeve Heavyweight T-Shirts ... my only "go to T". Best of all, these quality Heavyweight Tees are American made.

Quality is good but sleeves are too long

Everything about the shirt is as expected except the sleeves are surprisingly long. I am hoping the shirt shrinks to a "normal" size after a few washings

Best heavyweight t-shirt, PERIOD.

The quality of the shirts is first-rate. If you're looking for the best heavyweight t-shirt on the market today this is it. I only wish more colors were available in the medium sizes. I am ready to buy a multitude of shirts if those colors were expanded. Gray's, Heather's, light greens etc.

Have purchased several items in the past, all good fit and excellent quality. Recommend!

The Shirts get Five Stars

But the inventory only gets two. I have been frustrated many times over that the one T-shirt I want is unavailable in my size. The Mediums go fast and first. But that said, theses are the highest quality T's I own and own many. 5'9" 165 needing extra room under the arms from swimming and training over the years. And the Pro does that for me.

I have several Heavyweight T-Shirts and would buy more if not for the extra cost of shipping - adds 30% or so to the cost. As it is I now watch out for sales and look to use the discount to offset the cost of shipping

Great quality but price, plus extra mail, charge makes it only a marginal good value buy - makes me hesitate to buy more

really nice heavy shirt

Great fitting shirt with the exception of the sleeves which are too short for me at 5'11" 160 lbs. Unfortunate, because I like these shirts due to there heavy fabric and streamlined fit.