Tall Fit | Solid Colors
When making your choice for quality men's fashion, our premium t-shirts are a simple decision. Perfect for evenings at the beach, the natural cotton t-shirt is breathable yet just enough to take the edge off from the evening ocean breeze. Due to the heavyweight nature of the fabric, it will not become clingy during active sports nor during a day of rigorous physical work.
Choose one of each color and stock up on our long-sleeve heavyweight t-shirts. This high quality tee works hard, plays hard and will last for several years of constant wear.
All our cotton tees are constructed of a heavy custom woven cotton that we have manufactured for us locally here in the USA. Each shirt is garment dyed to eliminate shrinkage and discourage fading. The generous sized fit is cut to a full size larger than you are used to buying. The Tall Fit is approximately 3 longer than the traditional tees we sell. Be sure to consult our size charts so you will select the perfect size for you personally.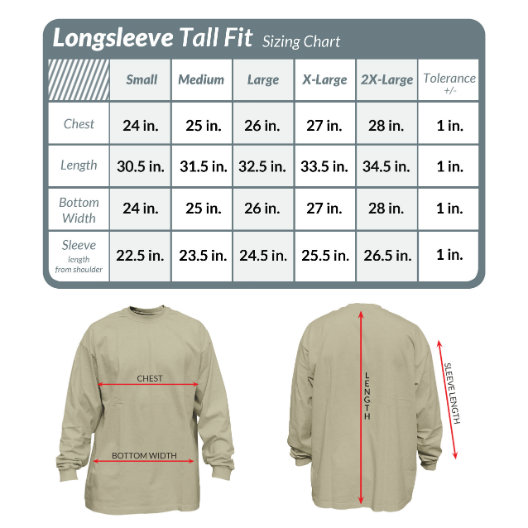 Great quality thick heavy weight cotton t shirt Love these T's

TALL FIT | LONG SLEEVE HEAVYWEIGHT T-SHIRTS

Purchased two of these very high quality, heavy weight long sleeve t-shirts for layering purposes when outdoors on cold days. Especially pleased with them and both have exceeded my expectations on quality and durability!

Tall Fit | Long Sleeve Heavyweight T-Shirts

They fit perfectly for being a 6'4" tall man. My experience has been that the more you wear them,the softer the fabric becomes! Worth every penny! MADE IN THE U.S.A.!

I love these shirts. The colors are beautiful and the comfort, fit and weight are just what I wanted, Highly recommended.

TALL FIT | LONG SLEEVE HEAVYWEIGHT T-SHIRTS

Will purchase the long sleeve heavyweight t-shirts in the future.

Great shirts so far. My opinion of them will if you begin sending prolific amounts of emails I don't want. SO DON'T!!

Heavy duty & American made

Best 100% cotton t shirt I have ever owned.

The two things I've been unable to find (in a long sleeve tee) until now are roominess across the upper back and a cotton fabric that is smooth. These tees have both. The fabric is remarkably sturdy but not coarse. To me, the over-all fit and feel are perfect. Exactly what I wanted. Finally.