Our Best T-Shirts for Men, now in the pro-fit style has a look and feel that sits closer to the body for a more streamlined fit. Some guys choose the Pro Fit to wear under a button down shirt. Since the fit is a bit more narrow and the sleeves a more streamlined, you can still have the comfort of our thick cotton tee next to your body as the first layer.
Pro-Fit - Solid Colors
If you are looking for a thick white t-shirt, this is your best choice but our pro-fit tees are available in plenty of your favorite colors. This high quality tee is garment dyed to reduce fading and due to the nature of how it is manufactured, it will resist twisting, shrinking or distorting. The comfortable fit will feel already broken in so you will feel like it is an old friend right from the start.
Be sure to check out the size chart on the next tab. Compare the pro fit to your favorite t-shirt to ensure that you order the perfect size for you personally. If still in doubt, watch the video on our SHIRT SIZE GUIDE to get help in measuring. These are a little less generous in fit than our classic fit tees but are approximately the same length. Even so, all our shirts are larger than the standard tube shirts you find in the stores.
Our heavyweight tees are created using a thick 100% cotton that is custom produced for us right here in the USA. In recent years we have added heather colors (90% cotton / 10% polyester) and Ash Colors (99% cotton / 1% polyester). The super duty fabric is made to last but supports superior comfort. Quality and comfort is the goal and with our new size range, there is something here for everybody.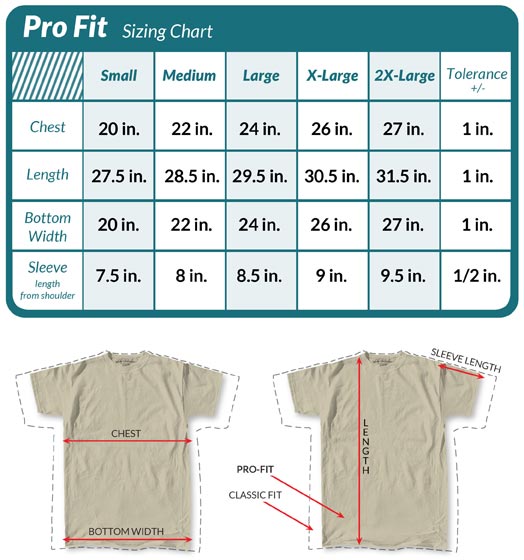 Pro Fit T Shirts short sleeve blanks

Great better than the imports that could replace cheesecloth in kitchens

I love these heavy cotton tees. They are really sturdy and hold their form in the wind, hiding my love handles perfectly. I'm average build and these t-shirts make me look muscular. Exactly what I was looking for! :D

I'm happy to have stumbled across this heavy-weight shirt and support local business as well. I bought a medium and it fits like a size large Hanes Beefy-T and is comparable in thickness. I don't mind spending a little extra for a shirt that will last longer than most overseas factory made clothing today. ---------------- EDIT: Hi in my review I said your shirts are of similar thickness to a Hanes Beefy-T. After I sent the review I weighed both shirts and found that your Heavyweight-T is 30% heavier than the Hanes. I wanted to correct my review and let people know your shirt is thicker and heavier. Thank you. -Bones

One of the best t-shirts going! They have added more colors to the smaller sizes but,new colors are always good!There is a need for more colors in the medium L/S shirts! That's why I gave 4 stars but overall these heavyweight shirts are as good as it gets!

If you have to have the best t-shirt, there is no other place to look. I have some of these shirts from years ago and they still have their color and show no or little wear. A quality product.

like it

I'm always looking for a good heavyweight t-shirt like I had when I was a kid. Thick, durable 100% cotton and a good fit in the arms and chest. Impossible to find these days until I found www.heavytshirt.com. As a big guy, you usually have to settle for a bit of a baggy fit and oversized sleeves. The PRO FIT fixes all those problems and is a great heavyweight all cotton T-shirt. Please don't change the formula. You have a new customer for life!! DT

These t shirts just dont fit right, tight around the collar, too long and just plain.. akward feeling. I even tried a large and a medium size and neither fit very well. Too bad because I like the material.

Please add more colors in the smaller sizes and smaller long sleeve also...that's why only 4 star review! other than that these are very good t shirts!