Premium Cotton T-Shirts - Solid Colors - Classic Fit
Are you looking for the best quality t-shirt available for men? All our heavy tees are made using highest standards and our blank t-shirts are among our best selling. These shirts are made to work hard but transition to play hard as well. They are generously sized for every activity and wear like iron. They won't cling, stretch, fade, twist or sag. The neckline is sturdy and long lasting.
Buy our thick heavy duty tees for your basic t-shirt collection and enhance it with our popular printed styles. Select one of each color - high quality heavy t-shirts with no graphic. Available in a wide variety of colors at a reasonable price, our premium t-shirts are sure to make the cut when you update your casual clothes collection.
Our Premium Cotton heavyweight t shirts are created using a thick 100% cotton fabric that is custom produced for us right here in the USA. NOTE: There is now an exception: We have recently included our new HEATHER and ASH shirts. In order to achieve the heather/ash fabrics, you must use a blend. The heather will have a fabric content of 90% cotton and 10% polyester and the Ash is made of 99% cotton, 1% polyester.
Each shirt is garment dyed in a high temperature bath which will eliminate shrinkage and discourage fading. The generous over-sized cut is finished out to a full size larger than you are used to buying in the store and our Classic Fit is what we are known for. Be sure to check out the sizing chart to ensure that you select the best fit available for you personally.
This is the t-shirt you will still be wearing 5 years from now. It is among the best cotton t-shirts for men available today.
Premium Thickness & Quality
Click here to read about just how we measure the weight.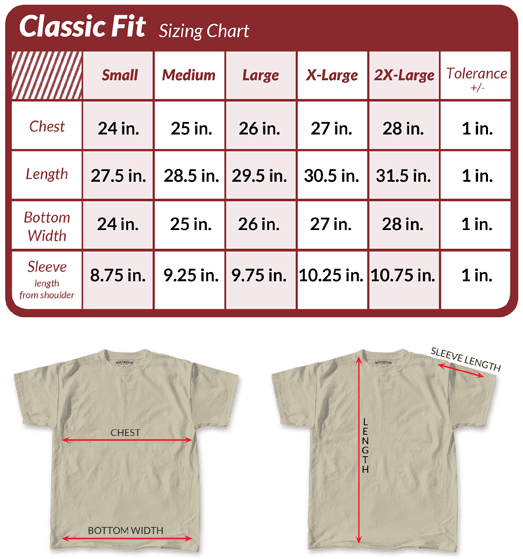 Short Sleeve
Classic fit blank short sleeve t-shirt in white

These are by far the best t-shirts. I have ordered short and long sleeve in the past. I wear them as under shirts. The heavy fabric is great. The collars don't stretch out. The shirts are long wearing.

I absolutely love the quality and fit of my new heavyweight cotton classic t shirts. Best shirts ever!

These t-shirts are simply excellent. They are very well made with a thick fabric that really is heavy duty and yet still soft, supple and comfortable to wear. The colors hold up nicely and don't fade even after many trips through the wash. I wear these shirts almost every day and use them hiking, mountain biking, working in the garage and just relaxing around the house. In cooler weather, I like to layer a short sleeve over a long sleeve. I'm pretty hard on my clothing but after three years I have yet to wear one out. I won't buy anything else!

These are truly heavyweight T-shirts. Not like the tissue paper thin ones you get elsewhere. Believe them when they say they run large as they do, that having been said, you can't go wrong with these shirts.

Love fit and quality.

Best T-Shirts | Heavyweight Cotton | Classic Fit

Outstanding in every way. Easy to order. Delivered on time. Excellent fit and finish. Truly heavy duty.

Excellent shirts, but sizing can be tricky

This will be a long review, but I hope informative. I'm an average, somewhat athletic build guy....with a bit of a belly. As you can imagine, I'm not overly proud of that last part. Because of the belly I look for shirts that have enough body in the fabric that they hold shape and drape from my chest rather than hug it because if its hugging the chest, than it'll be hugging and accentuating my gut. For this purpose alone these heavyweight T-shirts are awesome. I highly recommend them. Their Construction is first rate, the fabric heavy, but does soften a bit over time so don't be overly concerned that you'll be wearing a painting tarp. The problem for me was finding the right model and fit. Here is what I have learned... I am 5'8" and about 200lbs. If I didn't have the belly I'd have a V frame. I wear a size 44 athletic cut suit jacket if that helps. Without the gut...maybe a 42. I wear an XL T-shirt from Lands End, but I find these to be a tad small and the collars don't hold their own for long so I burn through them. My first purchase from Heavyshirt was an X-Large ProFit and a Large Classic fit. After washing twice, the way I wash T-shirts...warm water and tumble dry... if you lay the two on top of each other they are essentially identical except the ProFit is maybe 3/4" longer, the sleeves maybe 1/2" shorter and the sleeves come off the body of the shirt maybe 1" to 1 1/2" lower. Meaning that the width of the sleeve where it attaches to the body of the shirt is wider by an inch or more than the Classic Fit. That may or may not bother or please you. But it is important to note because these Heavyweight T-shirt sleeve widths are large...and long. So the sleeve covers your arm darn near to the elbow and you won't be showing any arm structure under the shirt unless you have massive arms. Out of curiosity, and hoping for a more athletic fit, I then purchased a ProFit Large and a Classic Fit Medium. Washed as above. The Heavyshirt website says the ProFit Large is 2" thinner in the width of the shirt (24") than the ProFit X-Large shirt and it shows. It racked on and around my belly. Not a good look. I'll be giving this to my friend Jim. The Classic fit M was better. Its reported on the website to be 1" wider than the ProFit Large and this held after washing, but it was a little tight in the pecs and kinda showing a shadow of belly. Jim may or may not get this too. So here is the way I see it with the items I've purchased....ProFit X-Large and Classic Large are pretty much the same fit after I washed and dried them. You get a slightly shorter sleeve in the ProFit and a slightly longer shirt. But the sleeve is significantly wider where it joins the body and that may or not be a feature you want. Dropping a size in the ProFit is a huge drop. 2" of width rather than the 1" difference in sizes in the Classic fit shirts so consider that before laying out the cash. If you are looking for a slightly smaller shirt than the ProFit X-large, don't get the ProFit Large. Consider the Classic Medium instead. If you are in a Classic Medium and want a bit more cut look, the ProFit large may work for you.

The best t shirts in town.

Once you figure out your size they are the best t shirt. They definitely run big.

These T-shirts are truly heavyweight cotton. No thin or flimsy material.