Premium Cotton T-Shirts - Solid Colors - Classic Fit
Are you looking for the best quality t-shirt available for men? All our heavy tees are made using highest standards and our blank t-shirts are among our best selling. These shirts are made to work hard but transition to play hard as well. They are generously sized for every activity and wear like iron. They won't cling, stretch, fade, twist or sag. The neckline is sturdy and long lasting.
Buy our thick heavy duty tees for your basic t-shirt collection and enhance it with our popular printed styles. Select one of each color - high quality heavy t-shirts with no graphic. Available in a wide variety of colors at a reasonable price, our premium t-shirts are sure to make the cut when you update your casual clothes collection.
Our Premium Cotton heavyweight t shirts are created using a thick 100% cotton fabric that is custom produced for us right here in the USA. NOTE: There is now an exception: We have recently included our new HEATHER and ASH shirts. In order to achieve the heather/ash fabrics, you must use a blend. The heather will have a fabric content of 90% cotton and 10% polyester and the Ash is made of 99% cotton, 1% polyester.
Each shirt is garment dyed in a high temperature bath which will eliminate shrinkage and discourage fading. The generous over-sized cut is finished out to a full size larger than you are used to buying in the store and our Classic Fit is what we are known for. Be sure to check out the sizing chart to ensure that you select the best fit available for you personally.
This is the t-shirt you will still be wearing 5 years from now. It is among the best cotton t-shirts for men available today.
Premium Thickness & Quality
Click here to read about just how we measure the weight.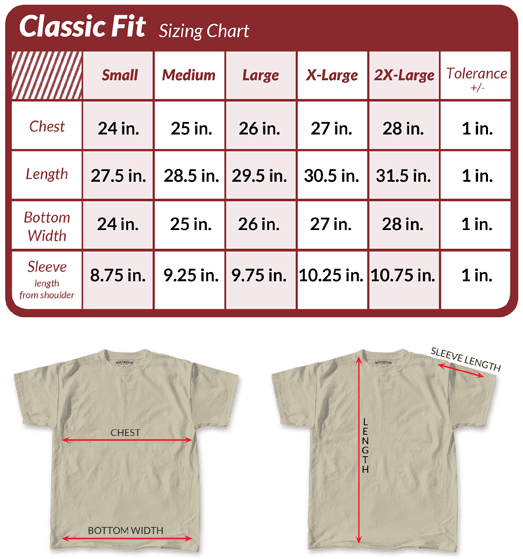 Short Sleeve
The best Ts available

As described does run large - quality shirt

This is a *really* great tee shirt! I waited until I had washed and mechanically dried it four times before writing a review. Result, no shrinkage and the color is remaining true (warm water wash and medium heat drying). Don't try to outguess this company and figure it'll shrink and be just right because it won't shrink. So now I have one of their shirts which is a bit large. I learned my lesson and the next four I ordered were one size down, just as the company's size calculator suggested.

Classic fit blank short sleeve t-shirt in white

These are by far the best t-shirts. I have ordered short and long sleeve in the past. I wear them as under shirts. The heavy fabric is great. The collars don't stretch out. The shirts are long wearing.

I absolutely love the quality and fit of my new heavyweight cotton classic t shirts. Best shirts ever!

These t-shirts are simply excellent. They are very well made with a thick fabric that really is heavy duty and yet still soft, supple and comfortable to wear. The colors hold up nicely and don't fade even after many trips through the wash. I wear these shirts almost every day and use them hiking, mountain biking, working in the garage and just relaxing around the house. In cooler weather, I like to layer a short sleeve over a long sleeve. I'm pretty hard on my clothing but after three years I have yet to wear one out. I won't buy anything else!

These are truly heavyweight T-shirts. Not like the tissue paper thin ones you get elsewhere. Believe them when they say they run large as they do, that having been said, you can't go wrong with these shirts.

Love fit and quality.

Best T-Shirts | Heavyweight Cotton | Classic Fit

Outstanding in every way. Easy to order. Delivered on time. Excellent fit and finish. Truly heavy duty.