Premium Cotton T-Shirts - Solid Colors - Classic Fit
Are you looking for the best quality t-shirt available for men? All our heavy tees are made using highest standards and our blank t-shirts are among our best selling. These shirts are made to work hard but transition to play hard as well. They are generously sized for every activity and wear like iron. They won't cling, stretch, fade, twist or sag. The neckline is sturdy and long lasting.
Buy our thick heavy duty tees for your basic t-shirt collection and enhance it with our popular printed styles. Select one of each color - high quality heavy t-shirts with no graphic. Available in a wide variety of colors at a reasonable price, our premium t-shirts are sure to make the cut when you update your casual clothes collection.
Our Premium Cotton heavyweight t shirts are created using a thick 100% cotton fabric that is custom produced for us right here in the USA. NOTE: There is now an exception: We have recently included our new HEATHER and ASH shirts. In order to achieve the heather/ash fabrics, you must use a blend. The heather will have a fabric content of 90% cotton and 10% polyester and the Ash is made of 99% cotton, 1% polyester.
Each shirt is garment dyed in a high temperature bath which will eliminate shrinkage and discourage fading. The generous over-sized cut is finished out to a full size larger than you are used to buying in the store and our Classic Fit is what we are known for. Be sure to check out the sizing chart to ensure that you select the best fit available for you personally.
This is the t-shirt you will still be wearing 5 years from now. It is among the best cotton t-shirts for men available today.
Premium Thickness & Quality
Click here to read about just how we measure the weight.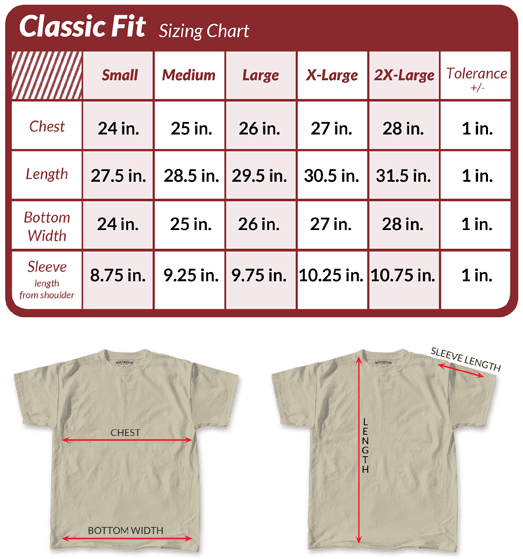 Good, heavy material. . .

I'm 5'10" and normally wear a large in T-shirts, but the suggested medium fit fine in the body, and the shirt length (not too long, not too short) and arm length are good. However, the sleeve diameter is much larger than that of . . . I would recommend the shirt on the basis of quality, although the sleeve fit isn't ideal.

Measured old t-shirt, followed their fit chart and ordered 2 t-shirts. Great fit & quality & heavy-weight with no sag collar. Just buy one, you will be happy!!

I love these shirts. Why would anyone want to wear the thin, lightweight, tight fitting shirts that are made by other manufacturers today? These shirts are so comfortable and look great. I will be ordering more.

3 ea. Classic Fit heavyweight cotton t-shirts

Purchased 1 large t-shirt as a trial fit. Terrific t-shirt but a little too big. I still really like it and will wear it. Next I ordered two mediums and they fit perfect. These are heavyweight, which I really like and the collars will not sag. You can't go wrong with these t-shirts. Don't overthink this purchase just do it. You will be pleased!!!

Good quality & a lot of shirt

I ordered a Large after reviews. I usually wear an XL, this Large was super baggy on me. Rather than send them back my wife remade them and was able to make matching masks with the leftover fabric. Please consider this when ordering. ------------------------- Note from HeavyTshirt.com - Great testimony for everyone. Be sure to check the size charts and measure before ordering.

I just received my t-shirt and it is a ''Blast from the Past!!!" Since the early 2000nd's when my longer sleeved, heavy-cotton t-shirts were on their way out; I started looking around to pick up more of them, only to find that I couldn't! I was extremely bummed, and missed my tees from the late 80's and early 90's. The ones I wore did, literally, last a decade, no kidding; and that was day after day wear, and frequent washing. Recently I was searching the internet and wondering if there was something similar to what I wore for t-shirts years ago, and this site came up!! These are the heavy-weight cotton, longer-sleeved, looser-fit t-shirts that longed to find again. I've washed the one I just bought already and it hasn't shrunk at all, just as described. The shirt feels durable and I love where the sleeves fall on my upper arms. I got so sick of wearing t-shirts with sleeves that would almost virtually shrink up to nothing, with every washing and drying. I'm a medium, and they are correct in advising you to order a size down. I ordered a medium, and i think it's terrific; but I'm going to order a small just to see if that isn't just a little bit of a better fit. Other than that, I love, love, love, these t-shirts!! Well worth the price!! I'm not going to buy my t-shirts from anywhere else!!

Nearly perfect. Wish they were about 2 inches shorter in length.

Always satisfied Except one time I ordered an xl t huge enough to be a pj

Happy customer for quite a while now ,

I own more than a dozen of these shirts. I have purchased them for more than 10 years. They are simply the best you can buy.