Premium Cotton T-Shirts - Solid Colors - Classic Fit
Are you looking for the best quality t-shirt available for men? All our heavy tees are made using highest standards and our blank t-shirts are among our best selling. These shirts are made to work hard but transition to play hard as well. They are generously sized for every activity and wear like iron. They won't cling, stretch, fade, twist or sag. The neckline is sturdy and long lasting.
Buy our thick heavy duty tees for your basic t-shirt collection and enhance it with our popular printed styles. Select one of each color - high quality heavy t-shirts with no graphic. Available in a wide variety of colors at a reasonable price, our premium t-shirts are sure to make the cut when you update your casual clothes collection.
Our Premium Cotton heavyweight t shirts are created using a thick 100% cotton fabric that is custom produced for us right here in the USA. NOTE: There is now an exception: We have recently included our new HEATHER and ASH shirts. In order to achieve the heather/ash fabrics, you must use a blend. The heather will have a fabric content of 90% cotton and 10% polyester and the Ash is made of 99% cotton, 1% polyester.
Each shirt is garment dyed in a high temperature bath which will eliminate shrinkage and discourage fading. The generous over-sized cut is finished out to a full size larger than you are used to buying in the store and our Classic Fit is what we are known for. Be sure to check out the sizing chart to ensure that you select the best fit available for you personally.
This is the t-shirt you will still be wearing 5 years from now. It is among the best cotton t-shirts for men available today.
Premium Thickness & Quality
Click here to read about just how we measure the weight.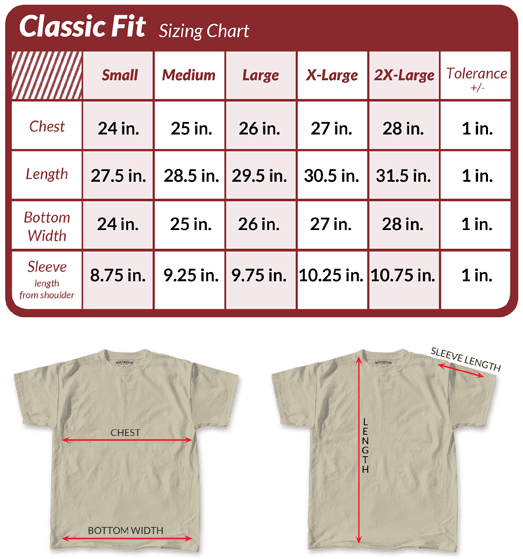 Short Sleeve
Adult
Male
Excellent Quality material

I really like the quality of these t-shirts! The neck does not sag which is my biggest complaint with other shirts. Definitely go down one size. I wear a large but will now order medium.

Very nice quality, but you ill need to order a size smaller than your normal size. These shirts run BIG as advertised. Customer service is top notch!

Hi guys. For weight, I have found, these can't be beat. Just be careful about the size you order. They warn you on the website that their sizes run large and that's very true! I'm normally a medium and order large. But I've discovered here that for me it's better to order small in order to land a medium. Even after washing. Also, if you're not as muscular as most male models, like myself, go with the pro fit when ordering short sleeves. The classic fit sleeves are too long and too wide for average build shoulders and arms. You'll look like you're swimming inside them. They could do a better job of keeping their colors in stock. It's why I made the mistake of buying some classic fits when I already knew better.

Best real "heavyweight " t-shirt you can buy ! You will not be disappointed !

Love them

love em

I love the fit and feel of my classic fit shirts. Outstanding quality.

I have been purchasing your product for around the last 10 years. Great quality and colors never fade. Wish you had a larger inventory in size small classics fit.

Found Heavyweight tees about a year ago. No doubt the best tees you can buy. If you are 2x l normally get XL. I just wish they kept more colors in stock in the XL size- hint,hint.