Our Best T-Shirts for Men, now in the pro-fit style has a look and feel that sits closer to the body for a more streamlined fit. Some guys choose the Pro Fit to wear under a button down shirt. Since the fit is a bit more narrow and the sleeves a more streamlined, you can still have the comfort of our thick cotton tee next to your body as the first layer.
Pro-Fit - Solid Colors
If you are looking for a thick white t-shirt, this is your best choice but our pro-fit tees are available in plenty of your favorite colors. This high quality tee is garment dyed to reduce fading and due to the nature of how it is manufactured, it will resist twisting, shrinking or distorting. The comfortable fit will feel already broken in so you will feel like it is an old friend right from the start.
Be sure to check out the size chart on the next tab. Compare the pro fit to your favorite t-shirt to ensure that you order the perfect size for you personally. If still in doubt, watch the video on our SHIRT SIZE GUIDE to get help in measuring. These are a little less generous in fit than our classic fit tees but are approximately the same length. Even so, all our shirts are larger than the standard tube shirts you find in the stores.
Our heavyweight tees are created using a thick 100% cotton that is custom produced for us right here in the USA. In recent years we have added heather colors (90% cotton / 10% polyester) and Ash Colors (99% cotton / 1% polyester). The super duty fabric is made to last but supports superior comfort. Quality and comfort is the goal and with our new size range, there is something here for everybody.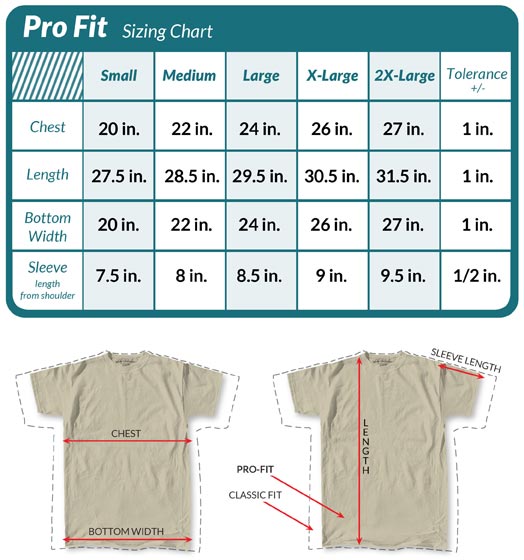 Burgundy Pro Fit T-Shirts

I have been wearing shirts for at least 5 years. They are the best. Only problem is this time, the burgundy shirts are not burgandy, or anywhere near the color they were. They are basically Brick. Not happy with that!

Best quality I've ever purchased. And the fit can't be beat!

High quality - Good neutral fit

I am a woman who wanted a shirt that was a neutral fit without weird cropping or cut outs. i bought a size or two below what I normally would in women's sizes to fit my shoulders. I wanted to write a review because I know these are men's shirts but I assume more woman would like a no-frills shirt. It is high quality and thick without feeling like it doesn't breath. I got a regular and profit and I definitely preferred the profit for my female figure - it is a better size without being form fitting. Customer service was great as well! Worth the money! Will buy again!

I've been buying the regular cut & Pro Fit cut for couple years now and I have yet to find a better T-shirt; and I'm weird about my T-shirts. High, tight fitting crew neck; well cut and lay on the frame and hardy but soft. Every washing just makes it better. I've only had the ends of one roll-up; the rest always lay flat. Great shirt ! Also, customer service with these guys is extraordinary ! I have had Jay call me directly and handle an issue I had with an order; unheard of and highly appreciated. He has my business and I tell everyone I know about this company. Worth the extra money.

the quality proves Made in the USA equals superb quality

As has been the case since I bought my first shirt at your store in San Clemente I continue to appreciate the quality of your shirts. During the pandemic i have found I wear the t-shirts every day. Compared to the typical imported T-shirts that could replace cheese cloth in a kitchen your made in the USA quality shirts are what a shirt should be A

Wow are thee thick!! BUT THEY RUN HUGE

Love these shirts. We're going to put our company logo on them but on the advice of other reviews I ordered up since people were saying they run small. NO!! They run very large. I'm 6 foot 230lbs and ordered 2xl and 2 of me could wear these. Then i ordered XL Pro-fit and still too big. If you normally wear an XL go Large. Wasted some money on shirts that don't fit but hopefully this review will help someone else save money.

I've finally found quality t-shirts that fit. I've liked these so much that I've purchased a total of 15 shirts within a month. You can not go wrong with these shirts. Highly recommend.

When I was a young man...many years ago, there were quality products, similar to these shirts available in many stores. Today however, you will have to search long and hard to find any shirts that come close to these beautiful, long lasting tee shirts. Thank you for providing an alternative to all the synthetics out there!

My gal pal bought me 10 of your T's about 6 years ago. I'm a shorts wearing, T wearing simple man. All year long. I'm retiring the old and bringing in the new. Because of wear and tear you know. After many wears, tears, and just plain washing them, it was time to take stock in new. You all make the best T's! Lots of colors to choose from, and the durability of each heavy T is amazing. I've gone from the classic to the pro fit. While both are outstanding, I do prefer the pro fit. I'm 6'2", 220 lbs., and they fit me exquisitely. My recent purchase's were: Cabernet, Burgundy, Sky Blue, Turquoise, and Butter. Have a few more to order though. As Arnold Schwarzenegger said in the movie 'Terminator': "I'LL BE BACK."