Looking for the best high quality pocket t-shirt for men? Our pocket tees are now available in the popular Pro Fit version. Made in the USA, built to last and meant for tough daily wear, our pro-fit pocket t-shirt has been heavily requested. Created with our signature, ultra heavy duty 100% cotton, our pocket tee is a hardworking shirt for men who need a strong and sturdy shirt with the advantage of a pocket.
We make our slim style heavyweight t-shirt right here in the USA using a durable cotton fabric that is woven locally. They are garment dyed to eliminate shrinkage and discourage fading. Although designed with comfort in mind, the relaxed fit provides room for hard work as well as play. The neckline will keep it's shape throughout all your activities and the printed label won't scratch your neck. This tee is a workhorse that will not cling, twist, fade, sag or shrink. Available in our pro fit body style which is a little closer to a regular t-shirt fit so be sure to check out the fit guide to make sure you get the proper size.
Available in our work-shirt basic colors, our max-weight t shirt with pocket is available and ready for shipping. Since high quality t shirts with pockets are sometimes difficult to locate, be sure to pick one up for yourself and one or two as a gift.
Pro Fit - Pocket T-Shirt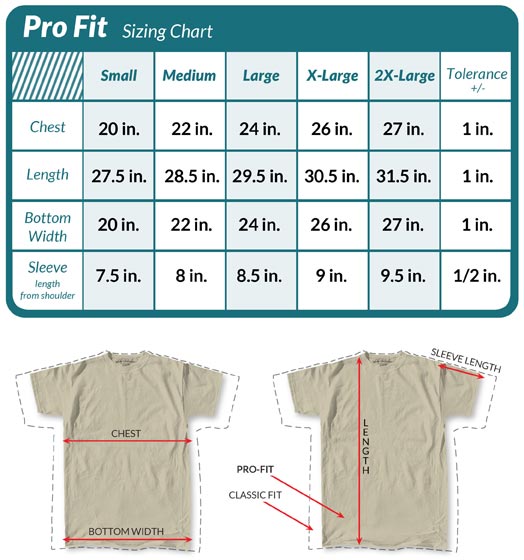 Love these shirts. Not your basic "flimsy" t. And the hold up for a very long time.

I've been buying heavyweight t-shirts exclusively for the last several years. I have not been able to find a more reliable supplier of t-shirts of this quality or better. Heavyweight t-shirts are well made and will last you many years. The pro-fit runs true to size, while the classic fit is a somewhat looser cut. Give them a try, if you like quality and prefer a more substantial weighted, long lasting t-shirt, you won't be disappointed.

Shirt well constructed with high quality material. Sizing fairly accurate but pay attention to sizing for each style. Pocket is larger than any I have had on my shirts but better than too small and useless.

Absolutely the best heavyweight pocket t

Bought to try and truly impressed ; need the pocket for work; 160 lbs 5.9 big shoulders perfect fit; Mik; thank you; will be buying more :)

Excellent heavyweight tee shirt

I bought two of these, one white and one black. Much heavier than the box store shirts and also about three times the price. I like these shirts and will alternate wearing them with the cheaper ones. My issue with most basic tee shirts is that they eventually become dull and discolored after multiple washings in the somewhat hard water from my well. I expect the heavyweights will do the same. But the fit of these is superior and with infrequent careful washing, I expect them to last a long time. I'm 5'7" 155 pounds and the medium was a good fit.

(Pro Fit) Great shirt and a great fit for a skinny guy.

I am 5'11" 160 lbs. and the size small Pro Fit is a great fit for me. Shirt sits at the waist line and does not hang down too far. Nice fitting all around. Thank you.

A little expensive but this is the type of shirt I have been looking for. Pay attention to the sizing chart. I am 5'11" about 160 lbs. and a size small fits almost perfect (I like my sleeves just a touch longer). Thanks again for a great quality and durable feeling shirt.

Sizing per their chart. Weight of shirt about right for heavyweight. Little or no shrinkage on washing. Cotton could be a bit softer but not a deal breaker. Color as advertised. Opinion based on 12 shirt order of pocket Ts.

I'll start with the pros; this t shirt is very well made and durable. The material itself has a nice heft and drape to it. The fit might be subjective but for an athletic build like mine it could still use some tailoring. I'm about 5'9" and 185lbs muscular build and purchased a small and medium. The small was definitely too tight in the chest but perfect in the arms and torso. The medium was perfect in the chest but the sleeves look a bit too sloppy. Now the cons; the pocket is in my armpit on both shirts. I have many pocket t's and I've never had the pocket that far over toward my armpit. Also, I purchased 2 shirts in the same exact color of Navy. The medium was about 2-3 shades darker. The small looked like it had been washed 10 times. Also the lettering on the small was faded out so it made me wonder if I received a seconds or if it were a return.