Looking for the best high quality pocket t-shirt for men? Our pocket tees are now available in the popular Pro Fit version. Made in the USA, built to last and meant for tough daily wear, our pro-fit pocket t-shirt has been heavily requested. Created with our signature, ultra heavy duty 100% cotton, our pocket tee is a hardworking shirt for men who need a strong and sturdy shirt with the advantage of a pocket.
We make our slim style heavyweight t-shirt right here in the USA using a durable cotton fabric that is woven locally. They are garment dyed to eliminate shrinkage and discourage fading. Although designed with comfort in mind, the relaxed fit provides room for hard work as well as play. The neckline will keep it's shape throughout all your activities and the printed label won't scratch your neck. This tee is a workhorse that will not cling, twist, fade, sag or shrink. Available in our pro fit body style which is a little closer to a regular t-shirt fit so be sure to check out the fit guide to make sure you get the proper size.
Available in our work-shirt basic colors, our max-weight t shirt with pocket is available and ready for shipping. Since high quality t shirts with pockets are sometimes difficult to locate, be sure to pick one up for yourself and one or two as a gift.
Pro Fit - Pocket T-Shirt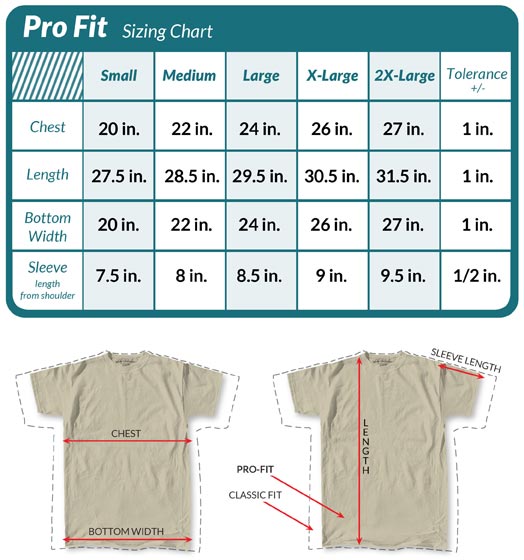 Short Sleeve
Pocket
Male
Adult
Hard to find a good, thick cotton T Shirt these days. These are the best I've found by far. Plus I like the fit.

Thank you for the size charts and shirt measurements on your website. The shirt is a perfect fit!

Finally, a shirt that stays tucked and sleeves that don't choke your arm pits. Five stars.

larger than I expected

Heavyweight Pro Fit T shirt

Nice heavy weight material, not like the flimsy thickness of most other brands. Sleeve length is longer than most other brands too, which is good. Neck has nice elastic feel. Pro Fit style is for thinner people than the standard line. I just wish they made these Pro Fit models in navy blue--the color selection is too limited.

Shirt too big for size labeled. Has a barrel shape fit. No shape to fit..unless you are built like a gorilla. Neck (collar ring) is strong (+) and pocket is fine. Very pricey for a pocket tee. I will continue looking for U.S. made one.

We have been buying T-shirts from Duluth Trading and Carhartt, but they do not manufacture their shirts in the USA. So, I set out to find some American made shirts and ran across this company, along with several others. The fabric in these T-shirts is heavier than Duluth's or Carhartt's; very sturdy! And a great price, especially for an American-made product. The one improvement to the Pro Fit would be to make them longer, like the Tall Fit. I buy the small in the Pro Fit, as the small in Tall Fit is too big. But other than that, they are great shirts at a great price!

Love these shirts. Not your basic "flimsy" t. And the hold up for a very long time.

I've been buying heavyweight t-shirts exclusively for the last several years. I have not been able to find a more reliable supplier of t-shirts of this quality or better. Heavyweight t-shirts are well made and will last you many years. The pro-fit runs true to size, while the classic fit is a somewhat looser cut. Give them a try, if you like quality and prefer a more substantial weighted, long lasting t-shirt, you won't be disappointed.