Vintage Hibiscus in classic fit has been one of the most popular styles we have offered at HWC. This popular mini band print is useful for any casual day whether it is around the office, the beach or even out to a casual dinner. Vintage Hawaiian prints are always tranquil and spark conversations about the original old school prints that began to appear in the 70's. Get one for yourself and one for a friend.
All our tees are made from the same heavyweight fabric. We have it custom woven from cotton that is grown in the USA by a company that is able to get the weight to be consistent from batch to batch. The tees are garment dyed at extremely hot temperatures which takes care of all the shrinkage before you get them into your hands. The garment dye process ensures less fading and shrinking but these tees keep their shape wash after wash.
Be sure to check the size charts as all our classic fit tees are quite over-sized and will require special attention from you to get the right size.
Made in the USA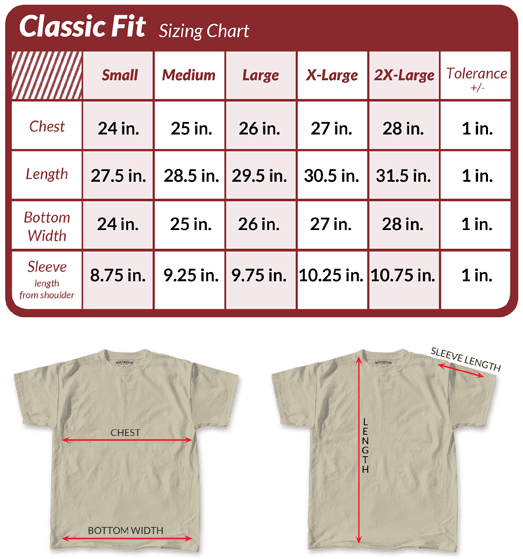 Short Sleeve
Male
Adult
First of all my closet is full of Heavyweight T-Shirts as they are the best! This design is perfect as it will never go out of style. It has the Aloha style that is great to find. I have two of the white with the design in red. Great Shirts!!

WISH YOU STILL HAD THE "BLUE HIBISCUS"!!!

A few years ago I found your shirts in a boutique in Balboa Beach. At the time I found the white tshirt with the blue hibiscus pattern. I contacted both the retailer and your company directly. I was told by your company that you would be putting that back in the production line. That was four years ago and still haven't seen it. Ready to buy one and don't know why you abandoned that color combination! From a native central California coastal guy living in Washington State. Troy

Best heavy weight 100% cotton t that is available

These ARE the best tee shirts Period. They run large so be sure to check their measurements. If I could offer one request give me a pocket on all tees-----I need it for my readers

I've been wearing Heavy T-Shirt over 15 years and they're the best I've ever known. Even after years of wearing, they never stretch out especially the neck, which is usually the first to go on other t-shirt brands. You can't go wrong with is product. It's the best!

I love the Heavyweight T's I have purchase many of these shirts. Always looking for the new prints and styles. Love the blanks with pockets. Love the long sleeve. Wish they made a long sleeve blank with pockets. Super quality.

All products are 1st Class!

It is simple...products are fabulous!!