Posted by Heavyweight Collections, Inc. on Oct 28th 2015
Traveling along with The History Channel's American Pickers as Mike, Frank and Danielle scour the backwoods of American looking for hidden treasures, and bantering back and forth with Barry, Darrell, Brandon and Jarrod , on A&E's Storage Wars are two of my favorite activities on a dull and dreary day in New Jersey. Whether it is finding an extraordinary item from a vintage bottle collection for a great price on American Pickers, or buying a room-full of clothing stacked on top of a chest of rare coins from the 1900's on Storage Wars, both shows are chock-full of surprises, twists and turns. But my favorite thing to see on these shows is when the everyday items are found and then transformed into a beautiful piece, like a battered dresser being transformed into a beautiful piece of furniture, or an old clay water pot being cleaned up and used as a decorative flower pot.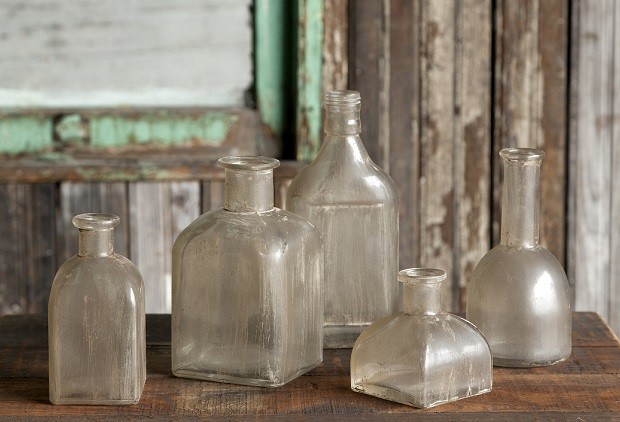 However, I can't spend my time on the road and in storage centers after a long week of work, so I am led to the internet to find inspiration around me and of course, cheap and beautiful decorations. Although you can create a decorative grouping with
vintage
bottle collections,
one of my favorite decorating items is a simple, clean glass jar. You can find almost anything to put in a glass jar without it looking unsophisticated. Paper clips, spare change, dog treats, gum balls, flowers, cookies, candies, nails, pens, shells, you name it, it looks clean cut and sophisticated when placed in a glass jar. Plus, container products are quick and easy organizational materials.
Don't believe me?
Think of your kitchen. Imagine the focal point of your room, whether it is your table or counter, now imagine a tall glass jar filled halfway with clean, clear, cold water. Now add daffodils, daisies and one single sunflower sitting your jar on your table. Beautiful isn't it?
Now think of your laundry room, picture your boxes and bottles of detergents and fabric softeners. Now transfer those items to clear, short, wide-mouthed jars. Organization has never been so easy and stylish!
Need organization in the kid's art room? Don't worry about glass in there, you can also find the same style of glass jars, but in plastic so it is kid-friendly. Plus, the plastic jars are white, so you can have your kids paint labels on each jar. Crayons, pencils, pom-poms, chalk, googly eyes, pipe cleaners, markers, and more fit perfectly inside jars and can help kids grow up being neat and organized. You can also buy glue in bulk and pour it into a smaller, squeezable container to save money.
You already love buying in bulk, so why not buy your organizational container products in bulk too? There are tons of websites that sell products in bulk just like the super-centers we all know. Familiarize yourself with the company and ask questions to easy concerns about buying in bulk. After all, buy one jar is expensive, but buying in bulk reduces the price drastically.
So when you are sitting around on a lazy, rainy day just watching television and thinking about what to do next, start looking around to see where your clutter lies. Simple and affordable changes can help clean up and organize your life while adding style to your living area.
comments powered by

Disqus