Looking for the best high quality pocket t-shirt for men? Our pocket tees are now available in the popular Pro Fit version. Made in the USA, built to last and meant for tough daily wear, our pro-fit pocket t-shirt has been heavily requested. Created with our signature, ultra heavy duty 100% cotton, our pocket tee is a hardworking shirt for men who need a strong and sturdy shirt with the advantage of a pocket.
We make our slim style heavyweight t-shirt right here in the USA using a durable cotton fabric that is woven locally. They are garment dyed to eliminate shrinkage and discourage fading. Although designed with comfort in mind, the relaxed fit provides room for hard work as well as play. The neckline will keep it's shape throughout all your activities and the printed label won't scratch your neck. This tee is a workhorse that will not cling, twist, fade, sag or shrink. Available in our pro fit body style which is a little closer to a regular t-shirt fit so be sure to check out the fit guide to make sure you get the proper size.
Available in our work-shirt basic colors, our max-weight t shirt with pocket is available and ready for shipping. Since high quality t shirts with pockets are sometimes difficult to locate, be sure to pick one up for yourself and one or two as a gift.
Pro Fit - Pocket T-Shirt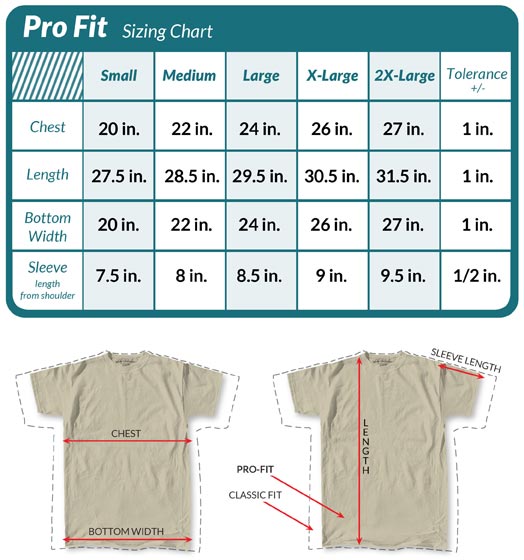 Short Sleeve
Pocket
Male
Adult